We recognise that the long-term success of our business requires the integration of industry leading Environmental, Social & Governance practices and policies across our organisation. In developing our ESG strategy we believe we will be able to address the biggest sustainability challenges facing our business, society and the planet and meet the expectations of our colleagues, customers, and other key stakeholders.
We've developed 'Positive Journeys' as our ESG strategy. The strategy is based on a review of where we are today and an identification of and plans to address the issues that matter most to our business, our stakeholders and partners to achieve our sustainability purpose.
Our sustainability purpose is to become a net positive business by 2050, putting more back into the environment and society than we take out.
CO2 Saved in EV miles
48,299 tonnes
Since June 2021
Positive Journeys
Our aim is to build value among our company's stakeholders by embedding responsible business practices sustainably within our own operations and across every stage of our supply chain.
Our strategic priorities
Moto's Purpose 'is to brighten people's journeys through life' and to achieve this we've set an ambitious growth and development strategy through to the end of 2026 that will see significant investment in business to achieve the five strategic priorities and our vision to 'brighten people's journeys through life'.
Leading the transition to clean energies
Increasing turn in rates by enhancing our brands, services & facilities
Winning the loyalty of commuters, families & HGV drivers
Increasing Moto's presences through new locations
Building a sustainable future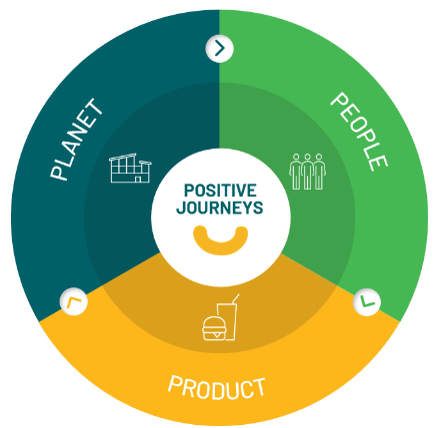 Our strategic pillars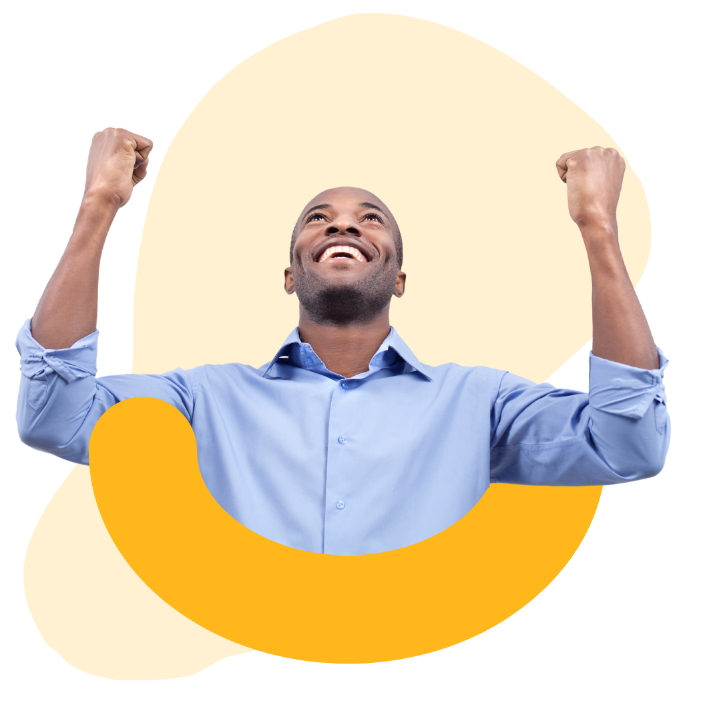 People
Our colleagues are the bedrock of our business providing consistently great customer service and connecting positively with local communities. Whether that is creating an inclusive work environment with industry-leading training and development or empowering our colleagues to contribute to the communities we serve, our people lie at the heart of our business.
We have four key People goals:
Doing business the right way
Be an employer of choice
Championing diversity and inclusion
Support charity partners and positively contribute to local communities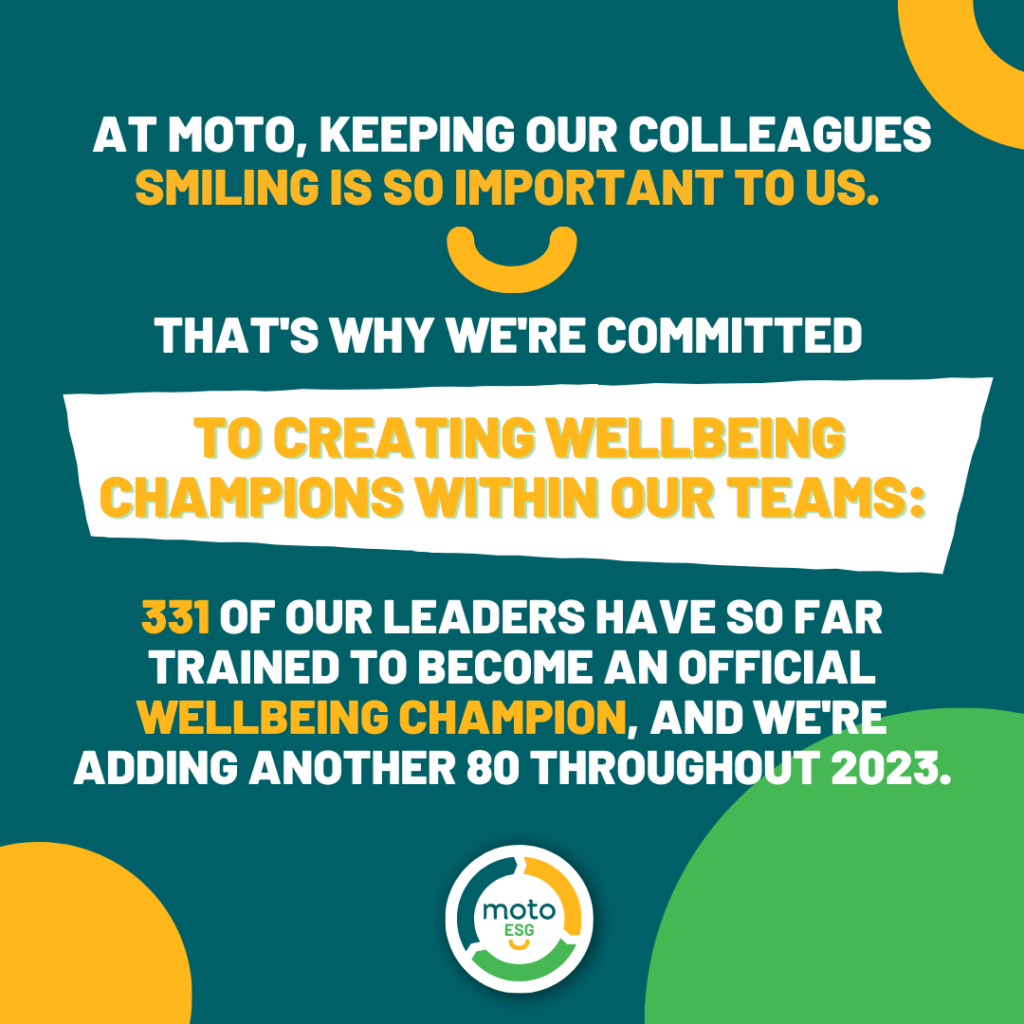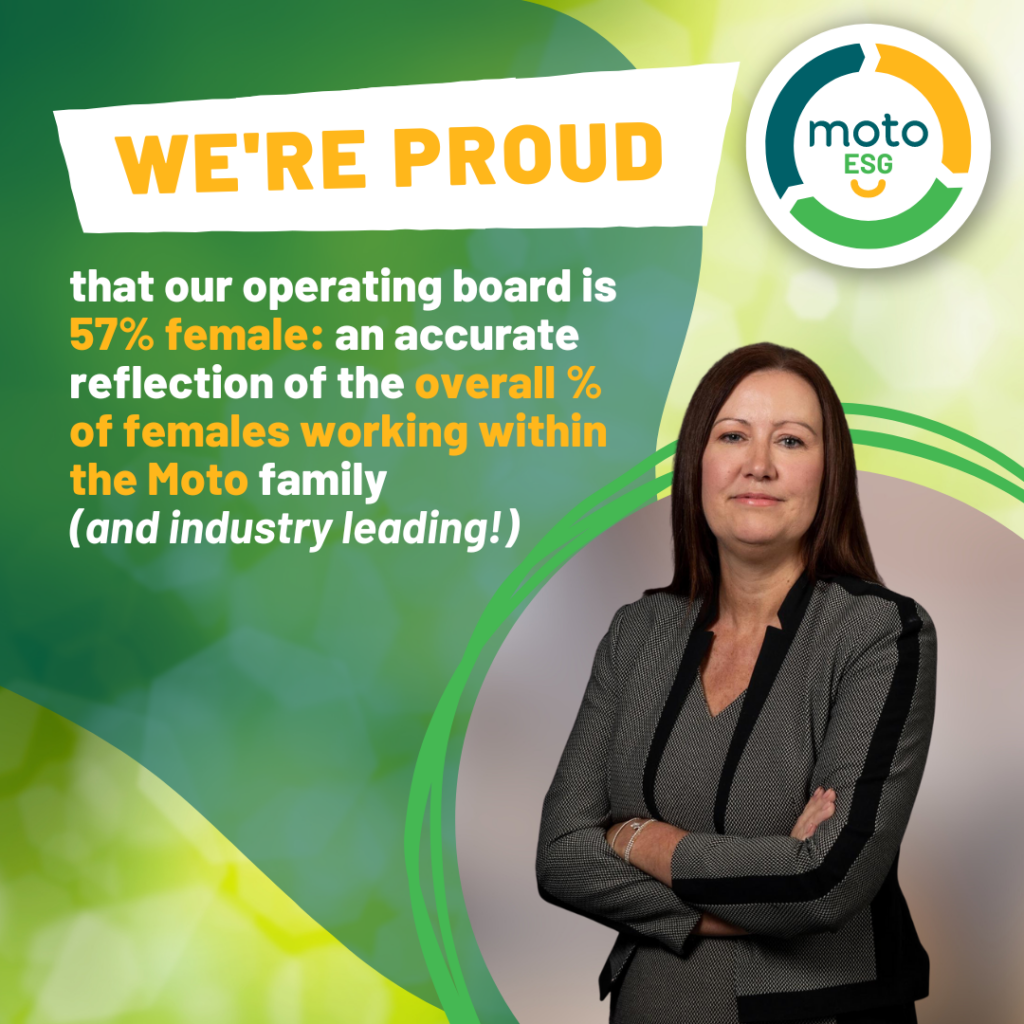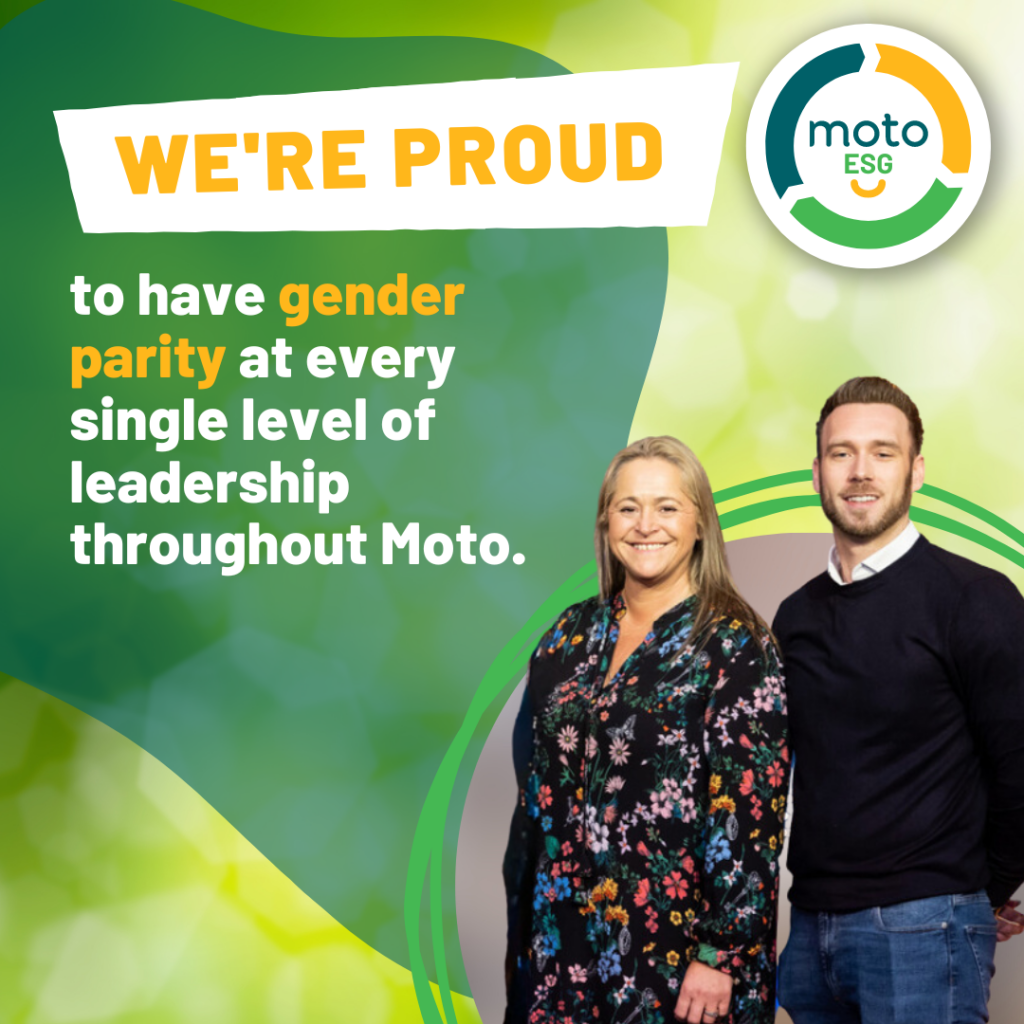 Product
The global pandemic has clearly shown the importance of building stronger and more resilient supply chains and we can achieve this by collaborating closely with our suppliers and brand partners to ensure our products are ethically produced and sourced sustainably.
We have three key Product goals:
Sourcing sustainably and with integrity
Work with brands who share our values and sustainability goals
Work with our partners to deliver high quality products and experiences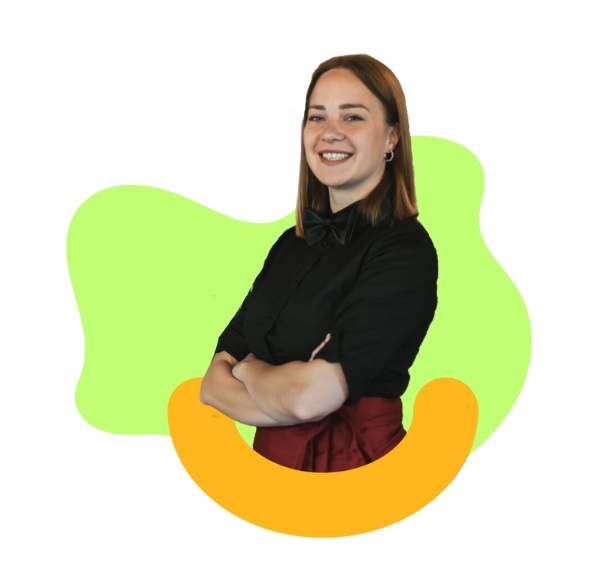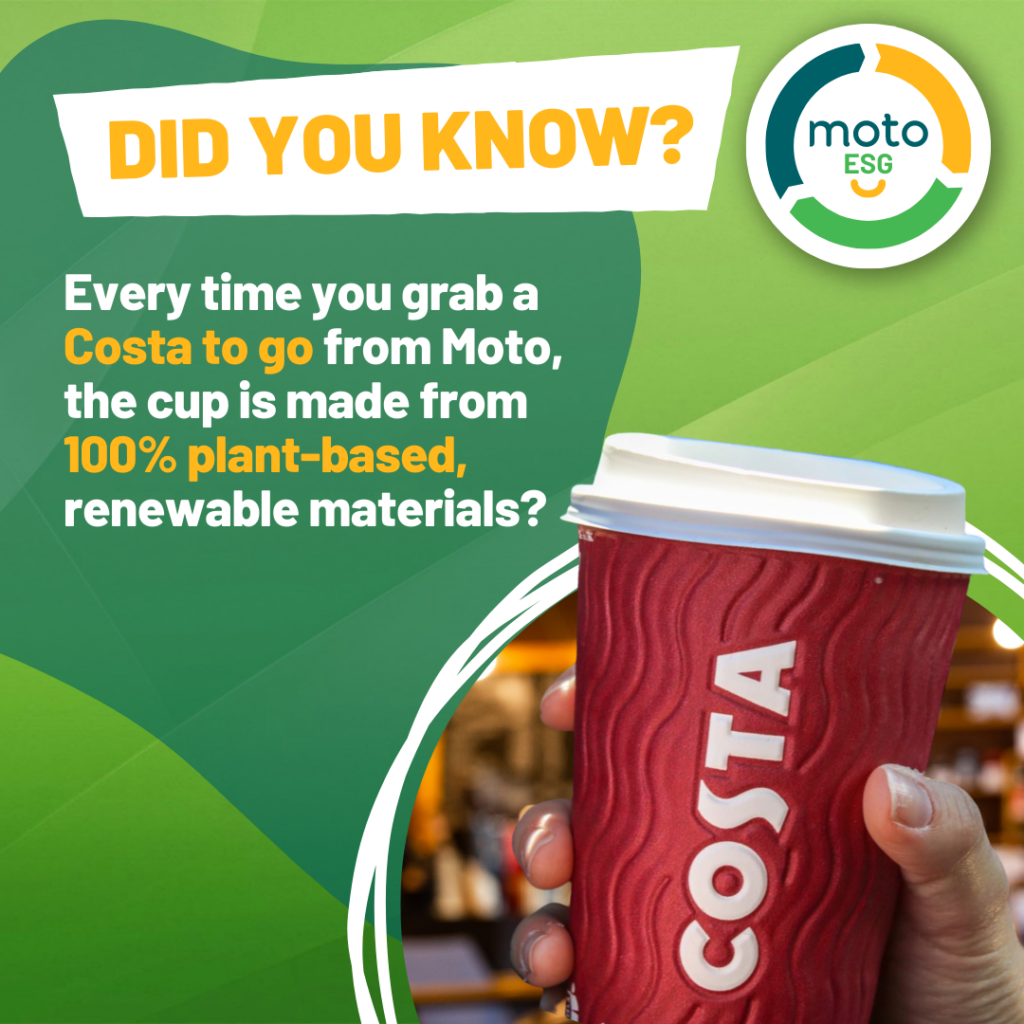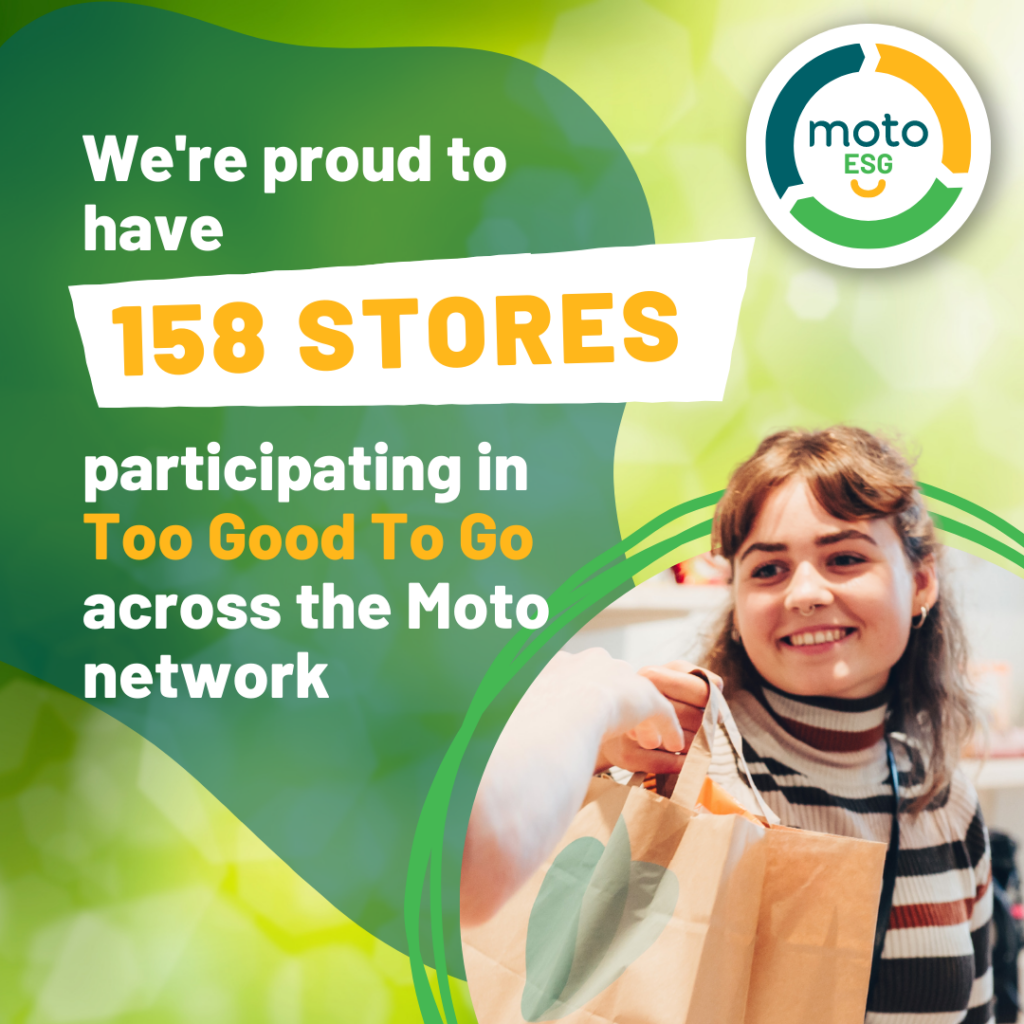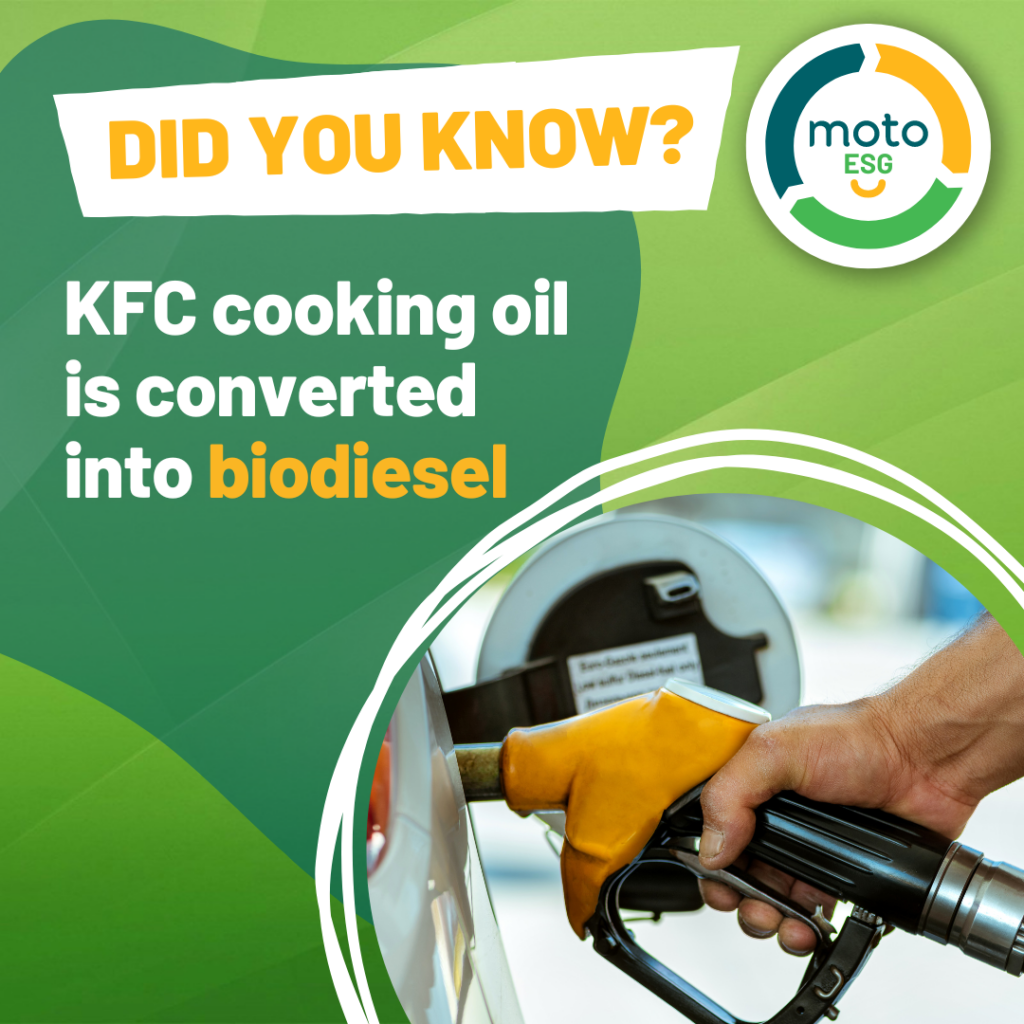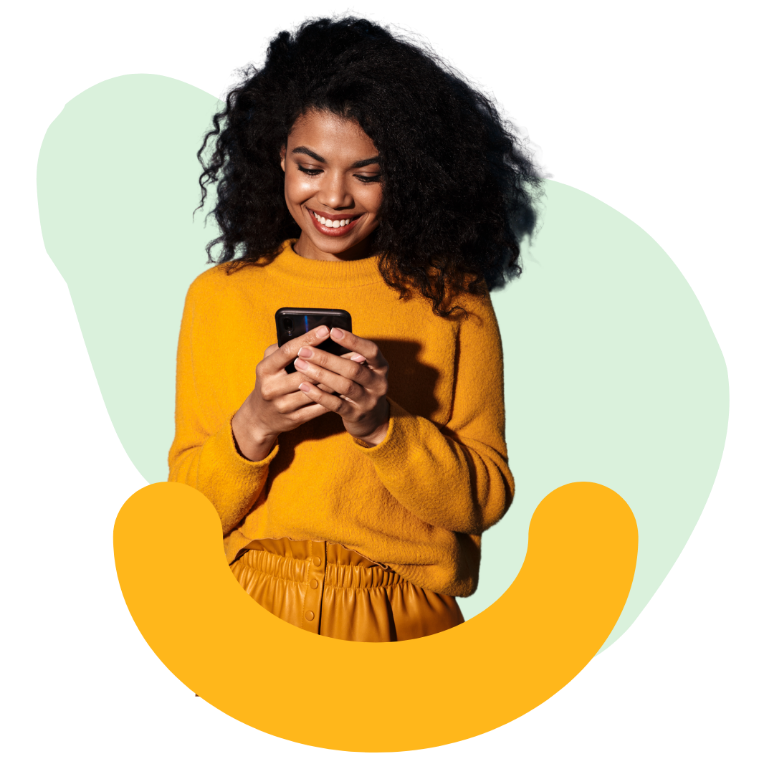 Planet
The impact of climate change will be one of the greatest challenges to our business over the coming decade. To address these challenges and to deliver sustainable business growth, we will reduce carbon, maximise energy and water efficiency and keep waste to a minimum within our own operations and in our supply chains.
We have five key Planet goals:
We will lead the national transition to EV
We will reduce negative environmental impacts and improve use of natural resources
We will futureproof our sites through innovation and design
Providing safe environments for colleagues and customers
We will help our customers to be more sustainable through our services and facilities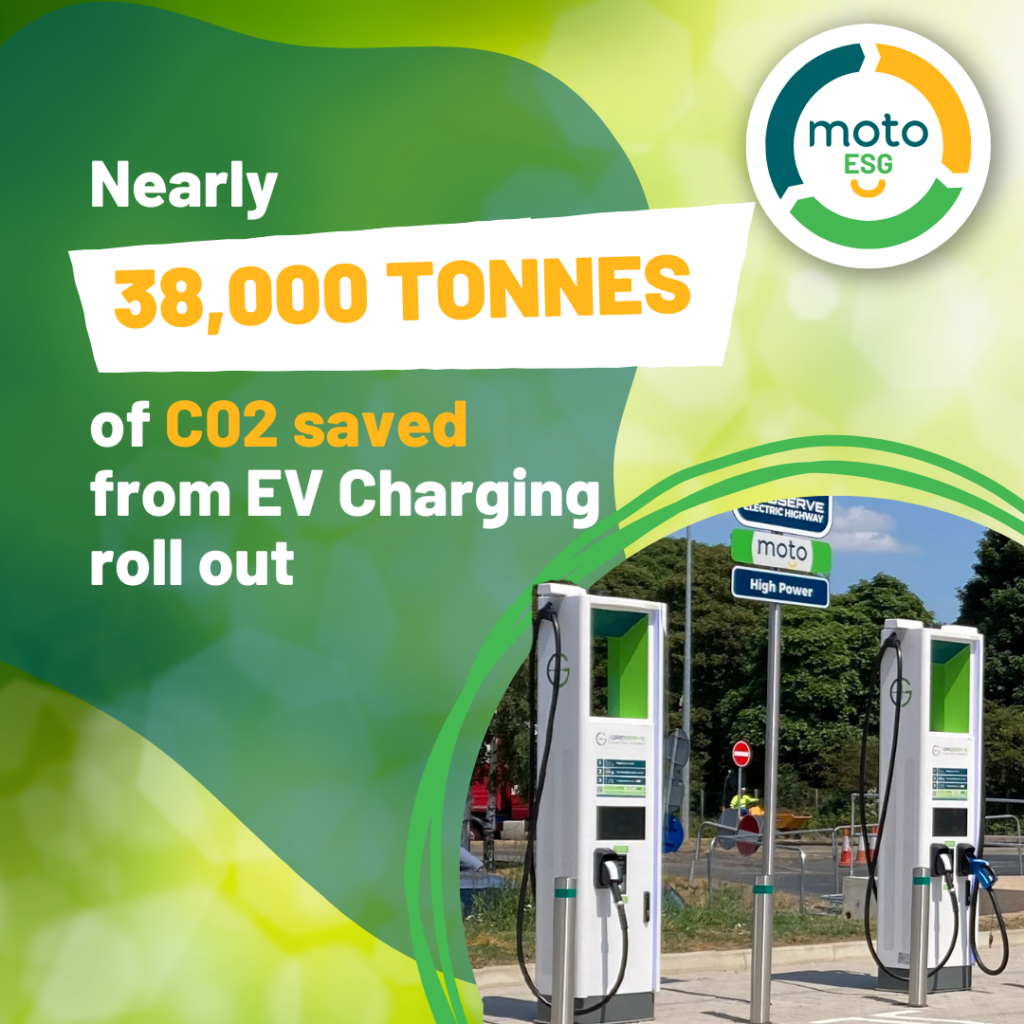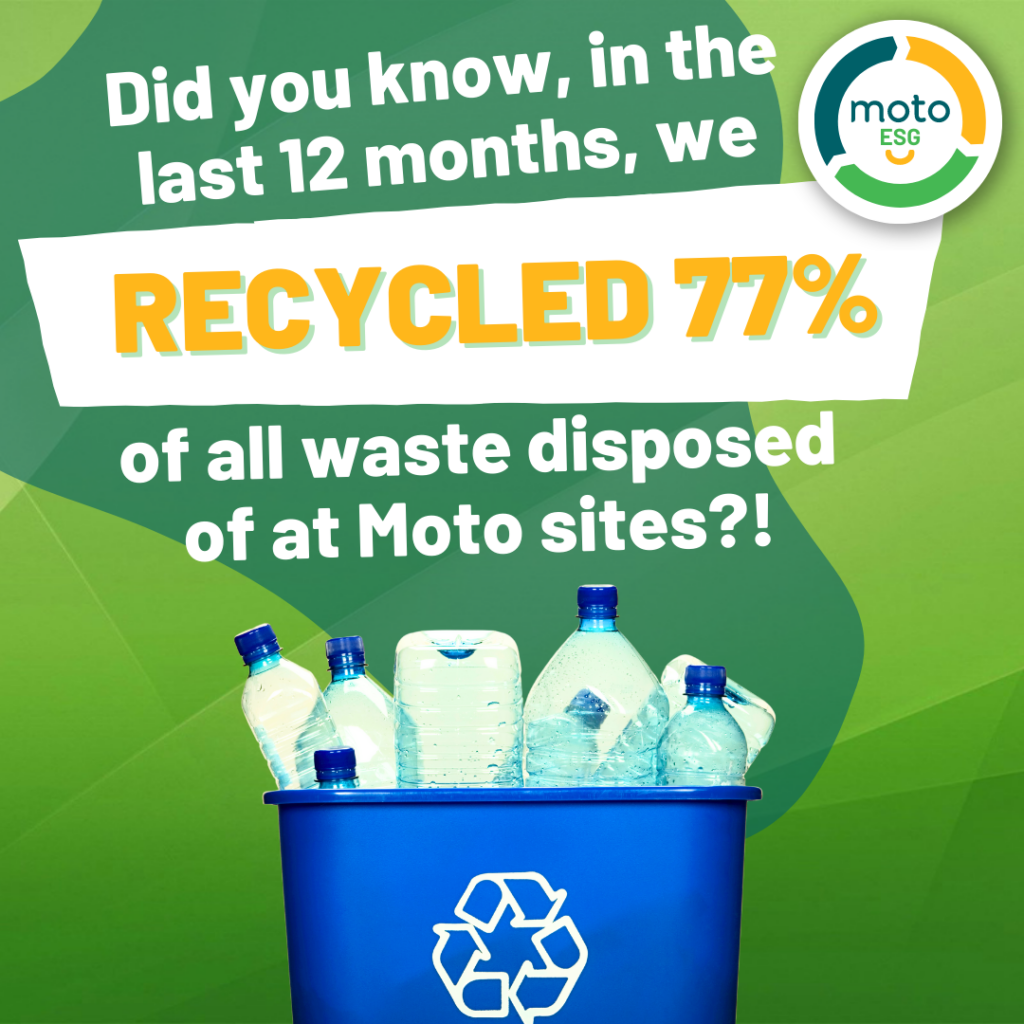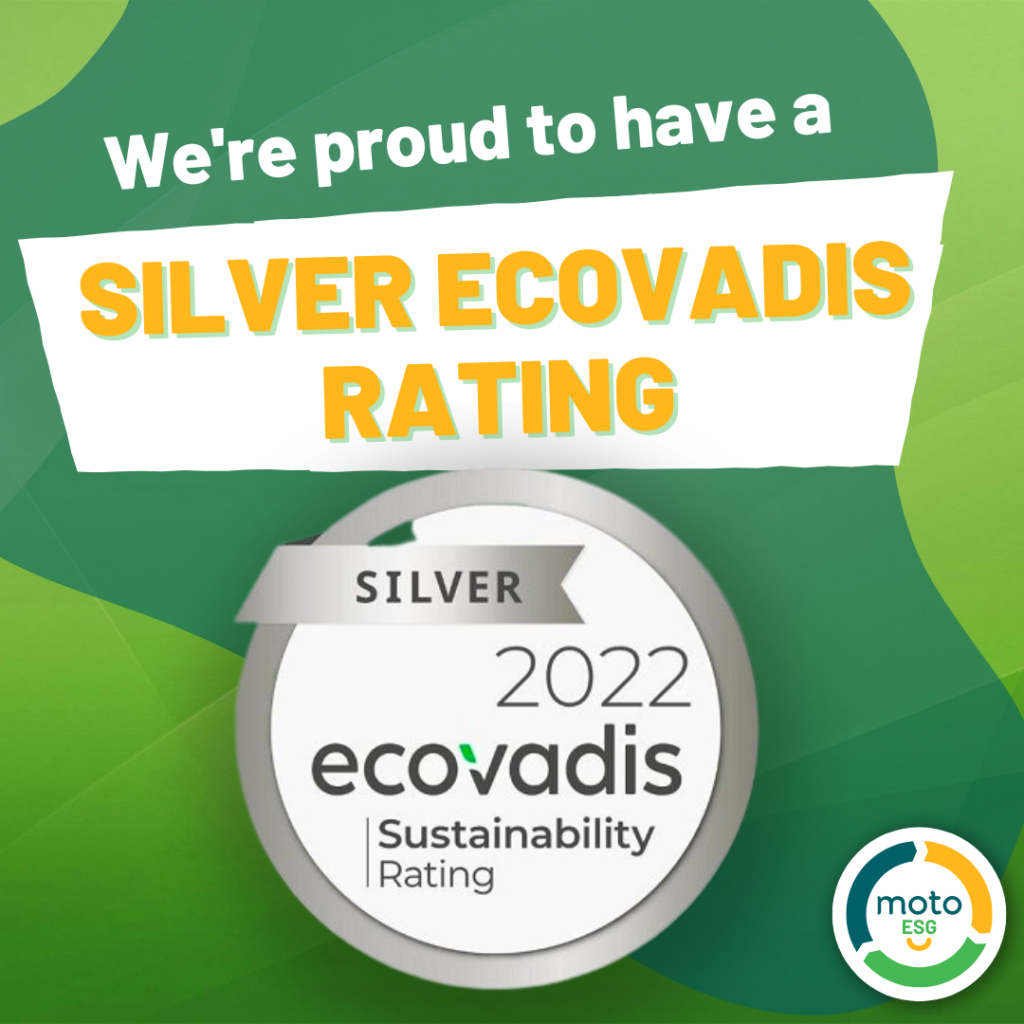 Our ESG highlights 2021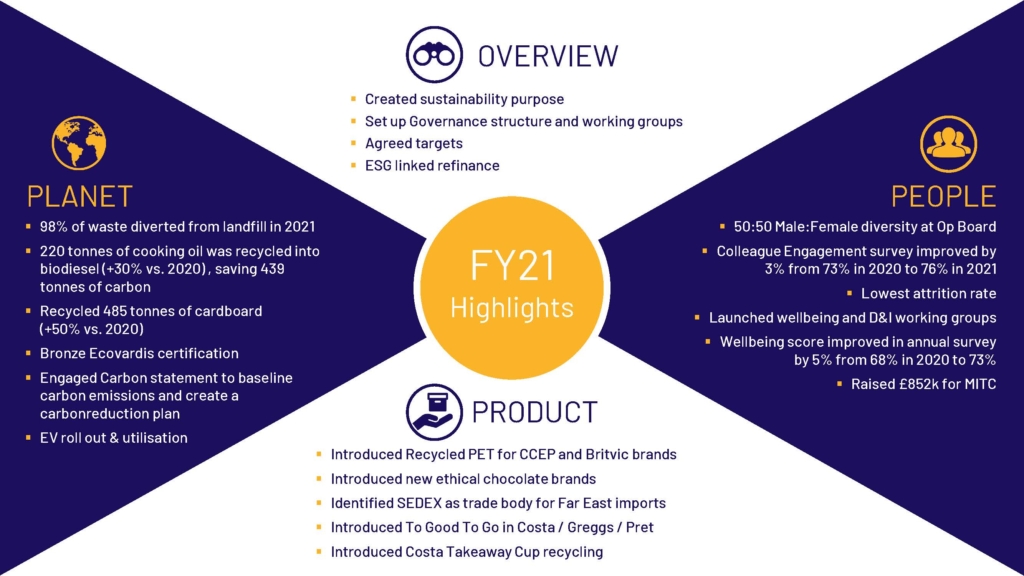 Our ESG highlights 2022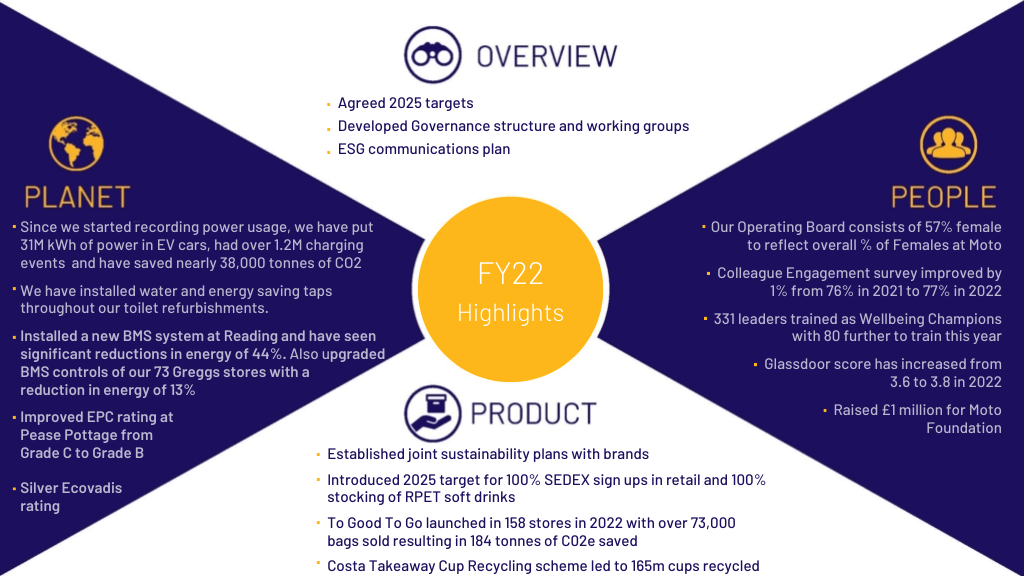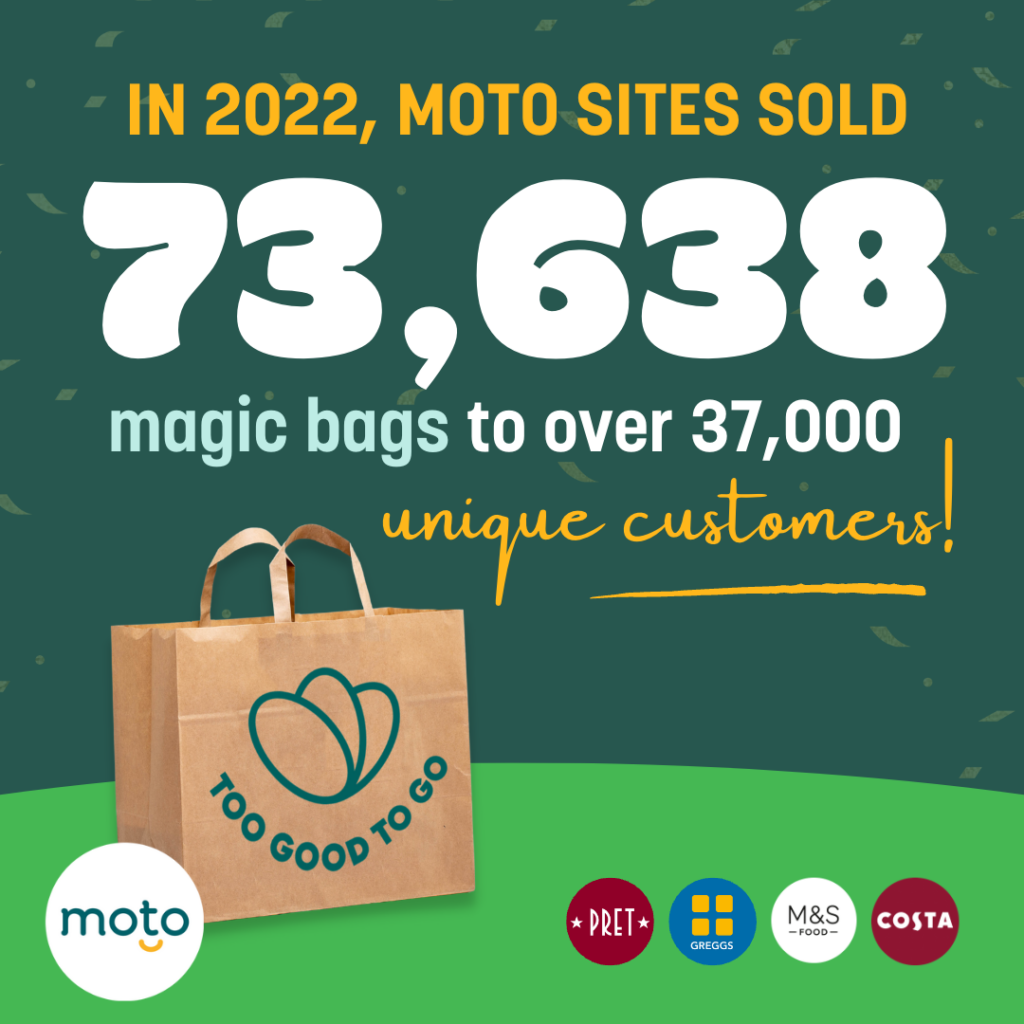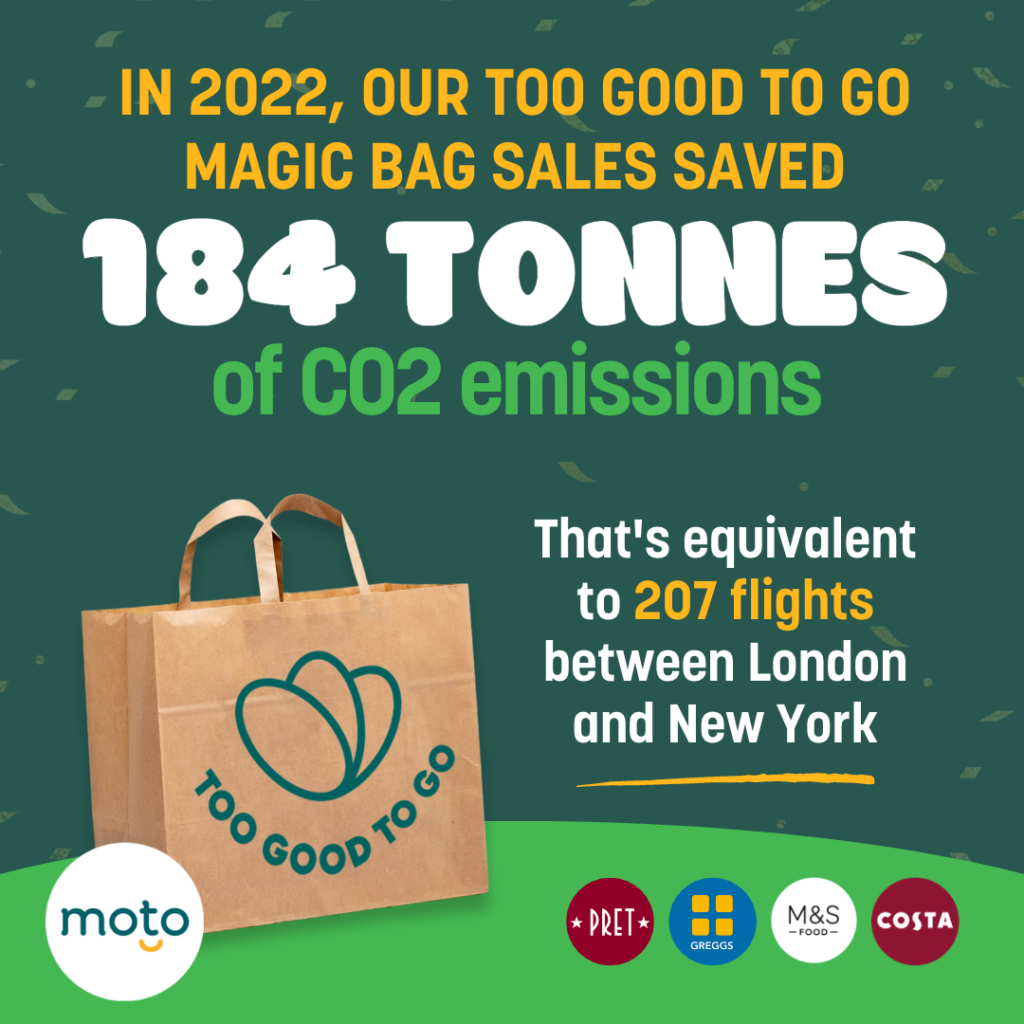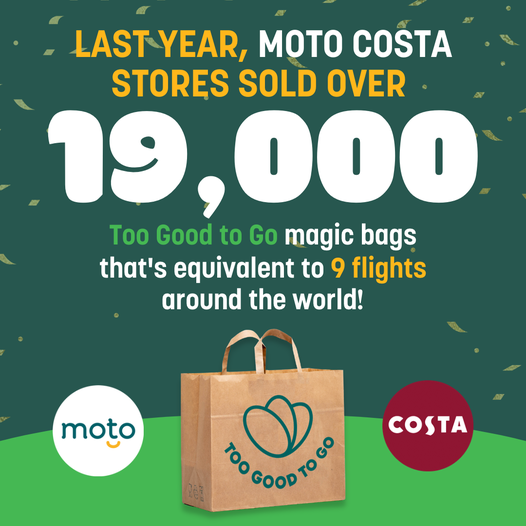 Governance
To successfully deliver our ESG strategy, we need a robust governance structure that supports each pillar and holds all relevant stakeholders to account.
Our shareholders have established an ESG Committee as a subgroup of the main Shareholder Board, who will take a strategic overview of 'Positive Journeys' and monitor progress and delivery against this strategy.
Moto's Operating Board is responsible for defining the ESG strategy and relevant targets and KPIs as well as reviewing ESG-related policies, processes, and practices to ensure they remain relevant, up to date and reflect industry best practice. Our ESG governance and programme structure is cross-functional and provides opportunity for us to harness the knowledge and experience of colleagues across the business. The Board sponsor for ESG is Moto's Chief Financial Officer. An overview of ESG policy compliance and reporting with any recommendations to the Board will also be the responsibility of the Committee.
The ESG Committee meets bi-annually with Operating Board ESG meetings taking place quarterly to review progress on targets and evaluate any risks and opportunities.
Underpinning these are the individual ESG programme working groups each chaired by an Operating Board Director, who meet monthly. The groups are responsible for the detailed environmental and social activities that form part of our day-to-day business operations.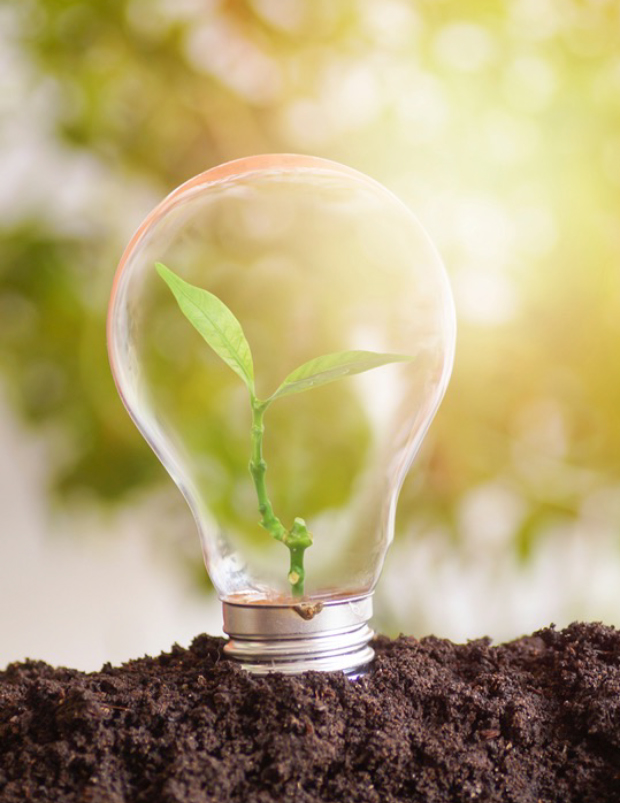 Governance – Cyber
There will have been a total £9million investment in Networks and Cyber Security Solutions by end of 2023. We have invested in Market-leading solutions from Cisco and Microsoft with Cyber Response protection in place from Cisco specialists. Since implementation, Cyber protection protocols have already filtered out over 40,000 phishing attempts a year.
All colleagues with email accounts are trained in Cyber Awareness and phishing tests are rolled out on monthly basis with great success. Furthermore, we have fully tested internal Cyber Response processes for Moto with clear identification of any risks from Brand Partners with additional response processes in place.
Third party audits and benchmarking of progress in Cyber Maturity underway
o Cyber Maturity Audit completes in 2023
o On target for NIST score comparable with M&S
o Already ahead of Hospitality Industry benchmark
o PCI Tier 1 Merchant Accreditation attained in March 2023
We are collaborating with the National Cyber Security Centre (part of GCHQ) on best practice, and have been invited to join their "Trust Group" for UK Hospitality and Leisure. This gives us direct access resources and to others in the group to share cyber experience and insight.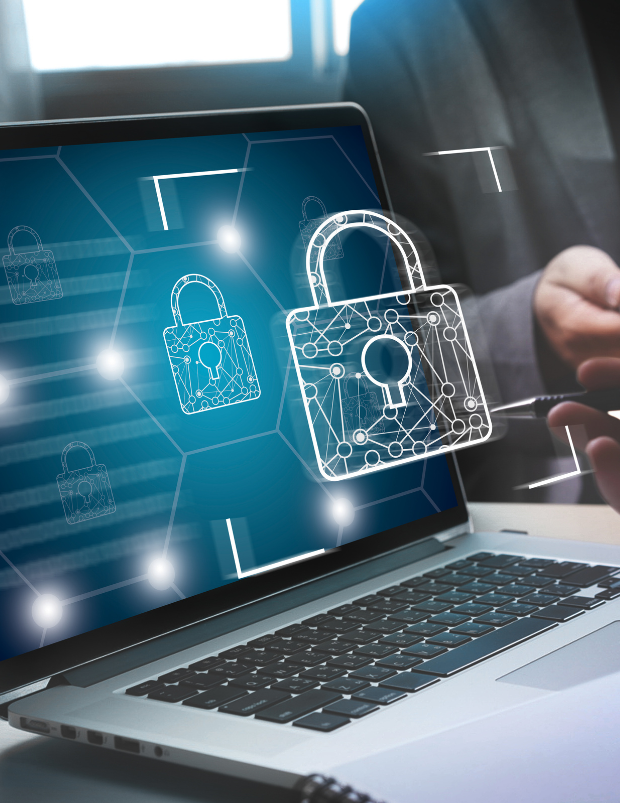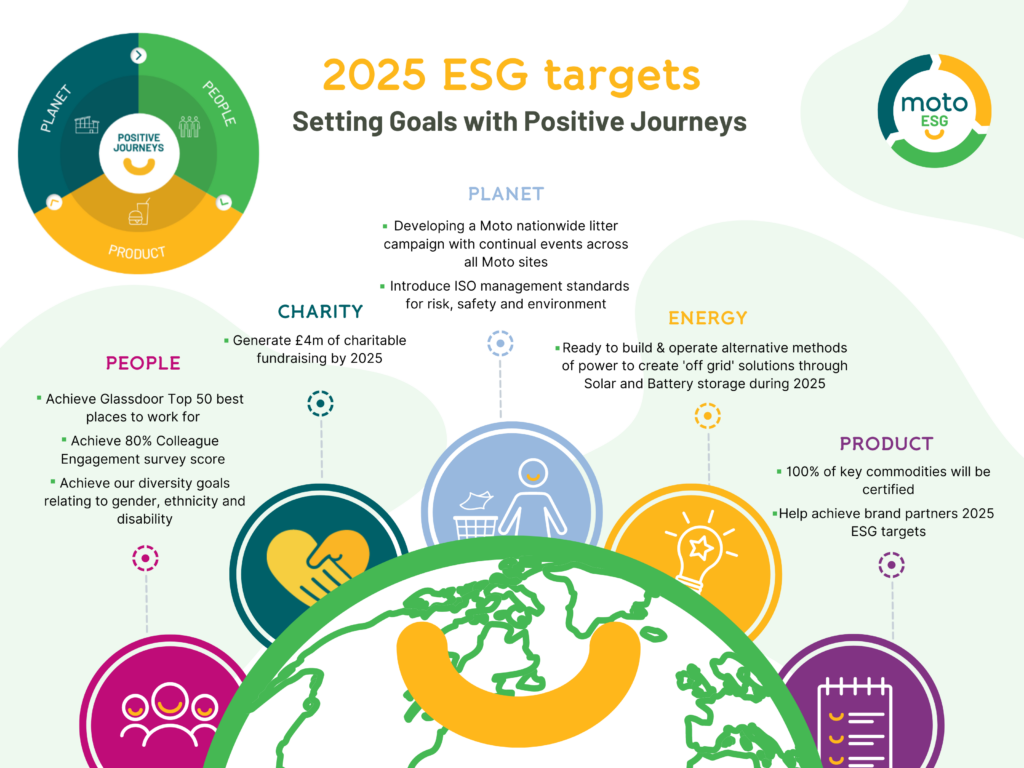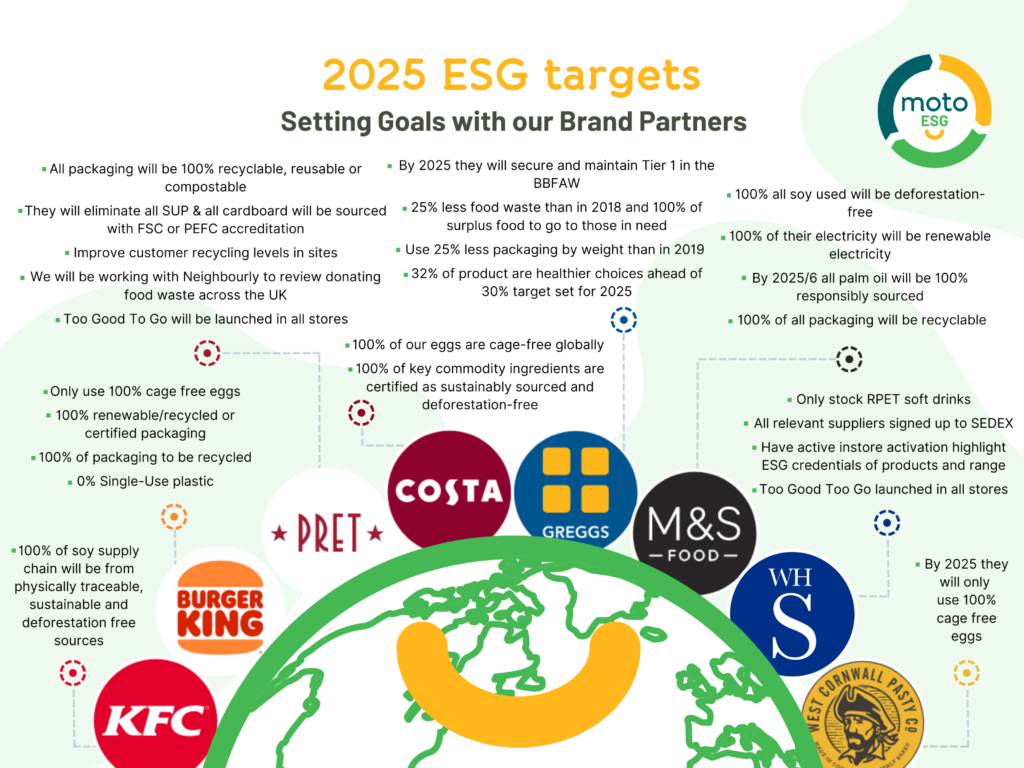 Policy Compliance
Each goal is underpinned by specific targets that will be delivered through policy compliance and commitments. These policies set clear minimum standards for our stakeholders and are critical to holding us and our stakeholders accountable. They will allow us to continually improve our minimum standards and take our teams and suppliers on this journey with us.
We have a Code of Conduct for all our stakeholders including robust policies for our colleagues, customers and suppliers covering areas such as health and safety, whistleblowing and anti-bribery policies that are treated as non-negotiable.

Please find our Code of Conduct here.

Please find our Modern Slavery statement here.

Please find our Health and Safety statement here.
Stakeholder Engagement
We know we cannot deliver our goal of 'Positive Journeys' on our own and therefore we will work in partnership with others including Government, investors, regulators, NGOs, trade associations and other industry partners. We are members of several organisations including UK Hospitality and Zero Carbon Forum.