Have a #CABVERSATION
We know that life on the road can be tough. From working long hours to constantly being away from home, being an HGV driver can sometimes feel isolating. That's why we're partnering with Mind and SAMH, with support from the RHA to encourage HGV drivers to reach out and connect with others while taking a break at our service stations, to promote better mental health and wellbeing.
In partnership with Mind and SAMH, with the support of the RHA, we are helping the nation understand how much of a difference a meaningful connection with someone can make – giving them a bright spot in their day and an opportunity to connect and share how they're feeling with others
#Cabversation is an opportunity to join the fight for better mental health and wellbeing for both HGV customers and colleagues. We will do this by encouraging HGV drivers to connect with one another as well as their families, friends and our Moto colleagues while in our service stations.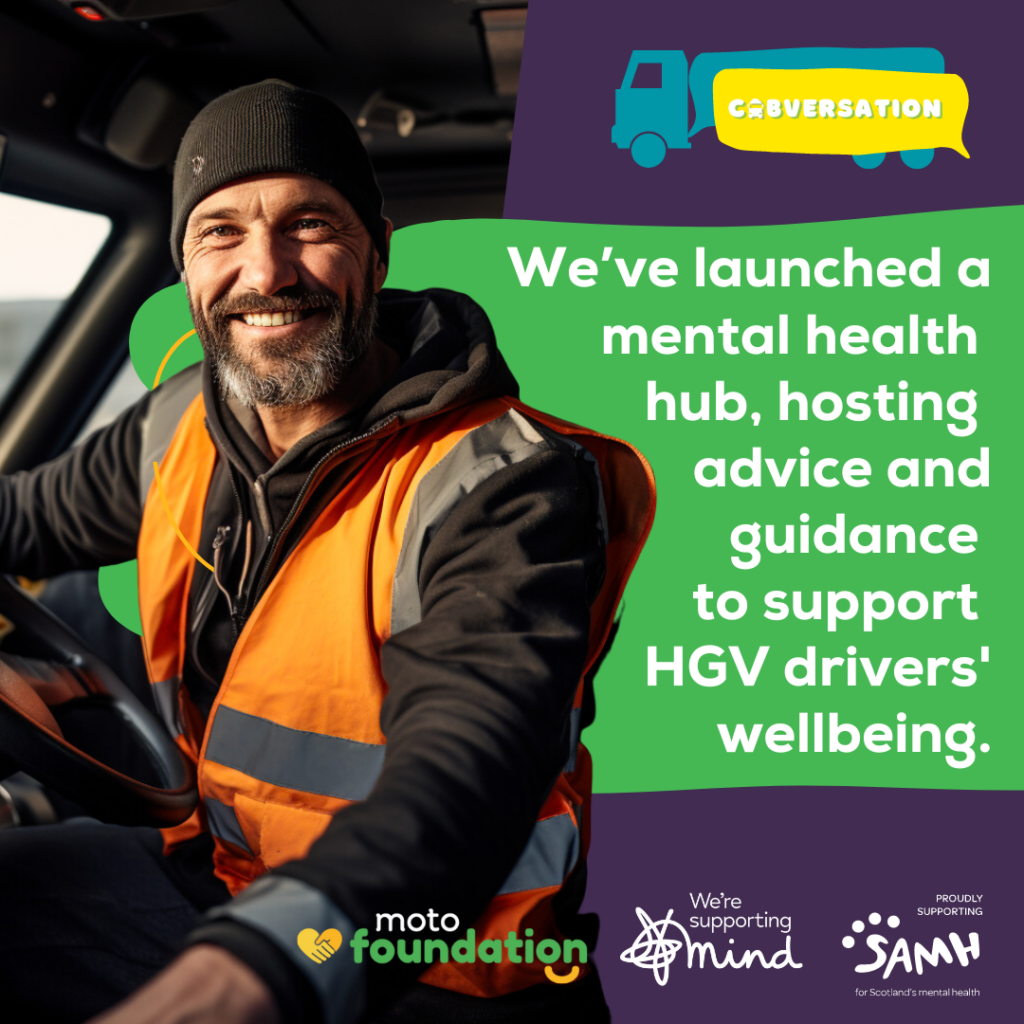 Cabversation Competition

Earlier this year we opened talking benches at our locations nationwide, providing a safe space for drivers to connect with a #Cabversation.
Over on our Facebook page, we are encouraging our HGV community to share a selfie or photo of them having a #Cabversation, whether that is with a friend, a fellow trucker or one of our colleagues when visiting our service stations. One of the photos will win a HGV driver bundle consisting of some trucking essentials.
Also, if you find the Cabversation icon hidden on our website (similar to the one on the right), you can win £50 worth of Moto vouchers to top up those meal tickets or spend as you wish at one of our sites.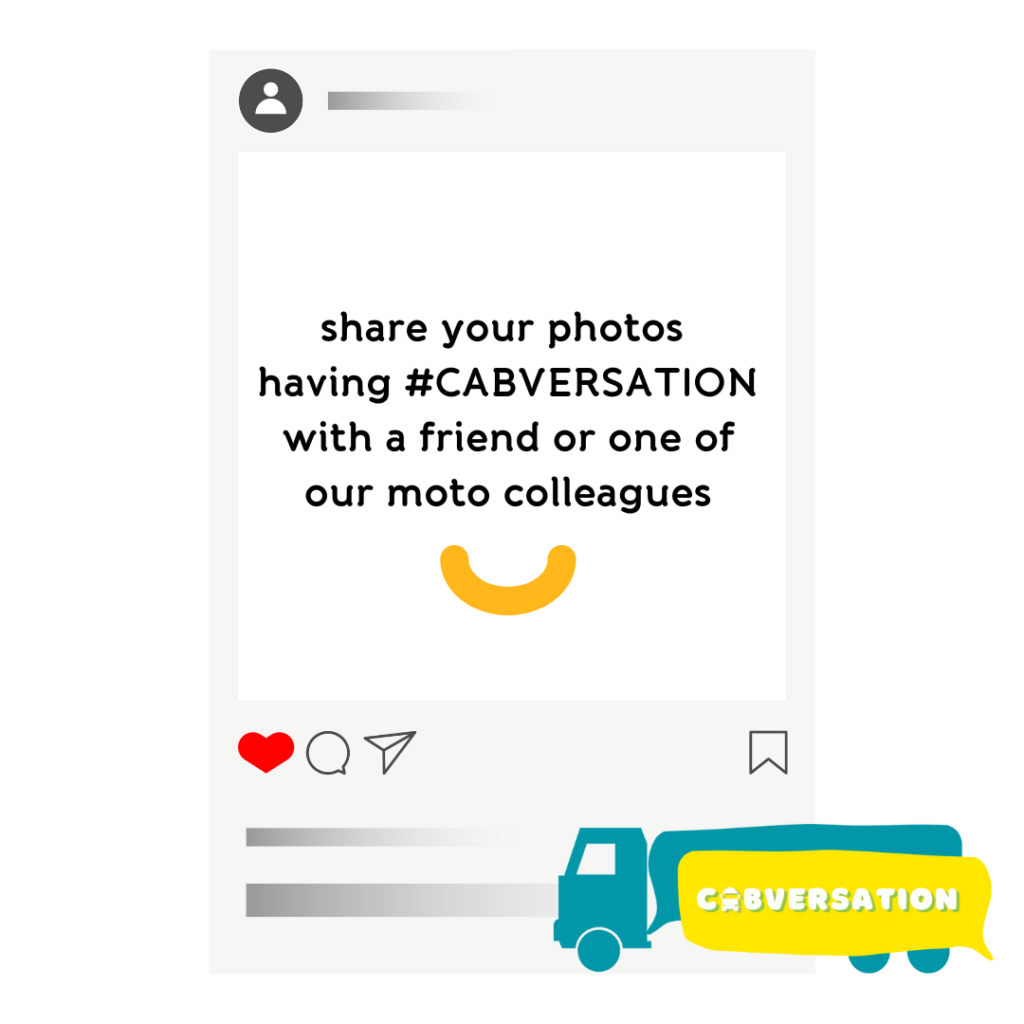 Mental health support and resources
Connecting with others can help improve our mental wellbeing. It can create a sense of belonging and provide an opportunity for us to share experiences and offer emotional support to those around us.
Making meaningful connections can help us to feel happier and more secure. Sometimes just having a chat is all it takes to lift our mood. Opening up to a trusted friend or family member can help us to feel heard and supported. Sometimes, just acknowledging our feelings by saying them out loud can help.
Loneliness
Explains loneliness, including the causes of loneliness and how it relates to mental health problems. Gives practical tips to help manage feelings of loneliness, and other places you can go for support.
Physical activity and mental health
Information about how physical activity can help your mental health, and tips for choosing an activity that works for you, and how to overcome anything that might stop you from becoming more active.

Some music for the road

Spotify playlists
Listen to a collection of music playlists created by Spotify for any occasion from mindfulness sounds to driving classics, perfect for the journey home. 

Working Minds campaign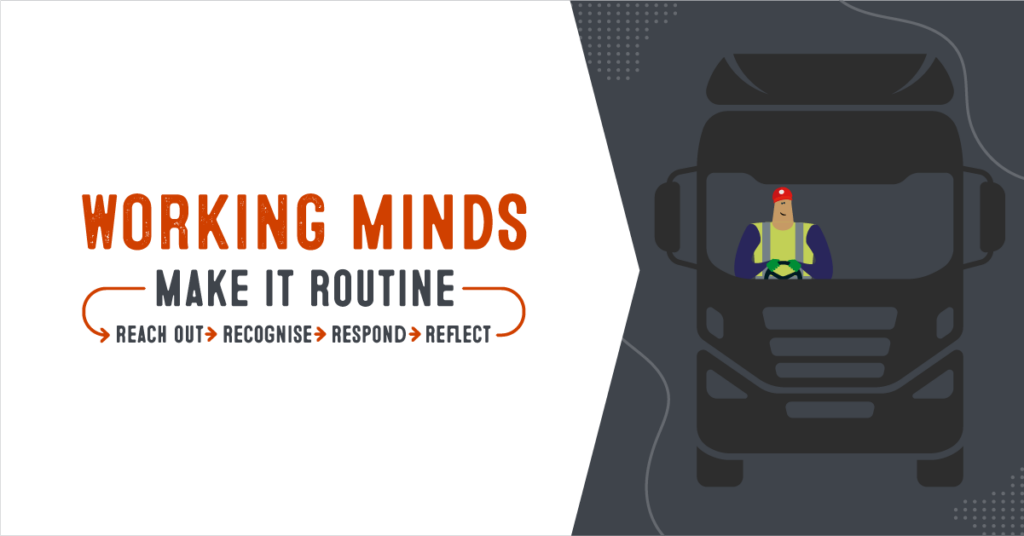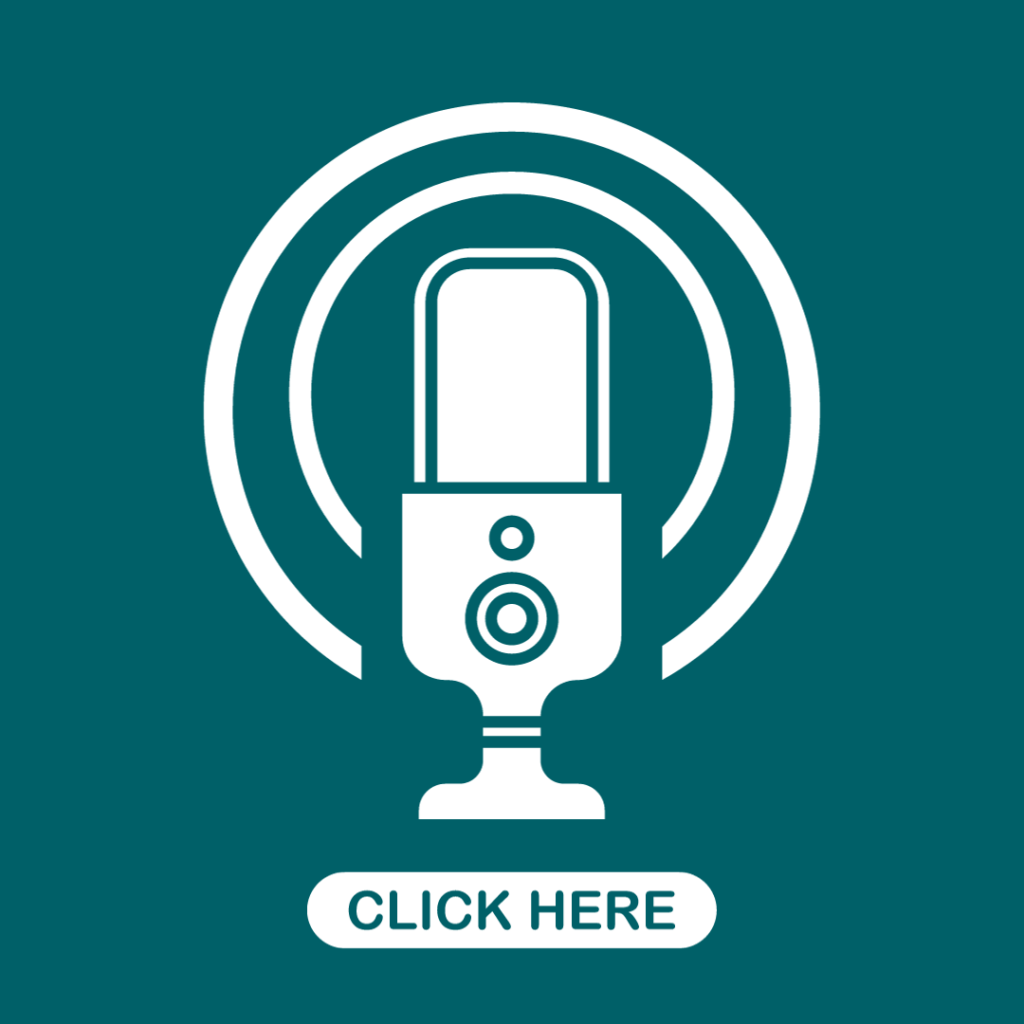 Our friends at RHA are also involved in another campaign with Working Minds to bring awareness to stress, anxiety and depression.
Research suggests that loneliness is associated with an increased risk of experiencing certain mental health problems, including depression and anxiety. It can also lead to low self-esteem, sleep problems and increased stress.
The Working Minds campaign brings together a range of tools and support to help businesses and workers understand the best ways to prevent work related stress and encourage good mental health.
We wanted to spotlight their wonderful podcasts but the Working Minds campaign also has other materials available on their page which can be accessed here.

More Support
Talking toolkits: https://www.hse.gov.uk/stress/talking-toolkit.htm
"BeAMate" text support service
Simply text "BeAMate" to 85258 and trained volunteers can help with issues including anxiety, stress, loneliness or depression and are available 24/7.
Mental Health at Work: driving better mental health for HGV drivers
The Mental Health at Work website, curated by Mind, provides tools and resources for those looking to improve mental wellbeing in the workplace.
Men In Mind podcast: https://podfollow.com/meninmind/view
Call Mind's Infoline on 0300 123 3393
Call SAMH's Infoline on 0344 800 500
Call Samaritans 24/7 on 116 123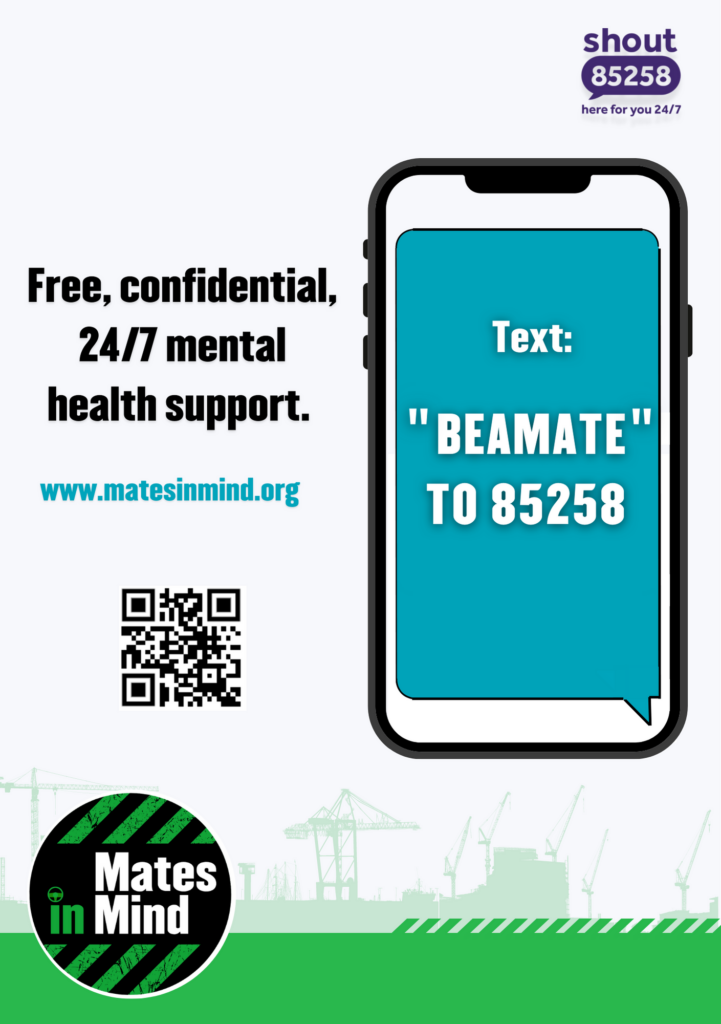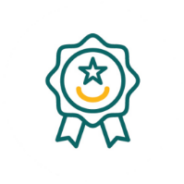 HGV Heroes
HGV heroes – the backbone of Britain and the fuel in the economy, keeping the shelves stacked, the supplies coming and the country moving. At all our motorway services, including our dedicated Moto Truckstops, you'll find a wealth of services, supplies, brands and offers to keep you going when you're going from A to B (and back again!).
As well as all the brands and facilities you expect to enjoy at Moto, like our free WiFi, toilets, showers and seating areas where you can enjoy some TV, you can make the most of so much more. We've got plenty of landscaped outdoor space for you to stretch your legs and enjoy some fresh air and gaming areas for you to unwind and have fun. You can even treat yourself to a pint or a glass of wine from Bar & Grill. (Of course, please remember to drink responsibly. Drink driving – it's not worth the risk.) Selected sites even have a truckers lounge, especially for you. Winner winner!
Whatsmore, UKFuel and Keyfuels are available at every single Moto site. SNAP is accepted at 14 of our locations – please visit here for more information on SNAP.
---
£10 Meal Voucher
We know that after a long day on the road, you're truckin' tired. That's why we offer you the chance to get a £10 meal voucher from us when you purchase an overnight parking permit. The cost of these will vary depending on where you're staying, but you can find all the prices here
Our overnight parking permits let you stay with us for 24 hours, so we understand that you might be with us for more than one mealtime. That's why we now give out our overnight parking vouchers as two £5 installments, so that you can choose whether to spend the lot in one go, or use them across two separate purchases, giving you the choice of what to eat and when.
You can use the voucher at all the catering outlets on site apart from Greggs forecourt stores & WHSmith. The brands you'll find on site will vary, so we'd recommend checking out what's available before you arrive.
Alcohol is excluded from the meal voucher. T&Cs and exclusions apply – please check your voucher for more details. This offer may be withdrawn without notice and cannot be used with any other offer or discount.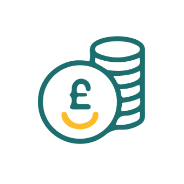 ---
Parking
You can park at all Moto sites for free for 2 hours. There are HGV specific spaces, as well as spaces for abnormal loads. To stay with us longer than that, you'll need to purchase a parking permit. Parking permits allow you to park for up to 24 hours with us, and during that time you are able to make use of all the facilities on site. Site security is available at selected sites, and you can find out all the information on what security measures are in place at the site(s) you'll be staying at by checking here.
Parking permits can be purchased on the day on site, or on a bulk basis through a parking account. Download our easy reference guide to daily HGV parking tariffs here.
If you have any questions about parking, paying to park or setting up/using a parking account, please contact us at parking.accounts@moto-way.co.uk.
---
Truckwash
Keep it clean! You'll find the Moto Truckwash available at