With record breaking temperatures and hotter weather than ever, keeping our pets safe on journeys and during trips in the car over summer is a key priority for us. Especially with more predicted heatwaves to come, we aim to create safe spaces for you and your dogs. That is why during the summer holidays if you are travelling alone, to avoid dogs being kept in the cars, they will be allowed on site. Dogs must be well behaved and on the lead at all time when using our facilities. Please note though, dogs are not permitted inside our restaurants or shops.
We have attached some Q&As regarding our four legged friends also available in our Help Centre
Is my Guide dog allowed on site?
All assistance dogs are allowed on sites and in restaurants, shops and facilities; having full access to the building. Guide dogs are a type of assistance dog; assistance dogs are trained to assist someone with a specific disability or medical condition, and they are legally allowed into public spaces with their owners. Moto is inclusive and we encourage owners to use our sites and feel safe and secure doing so.

If I travel alone and I'm travelling with my dog, can I bring him/her inside
with me so that I can use the facilities?
Yes, we won't turn any drivers away who need to bring their dog(s) with them in order to use
the toilet facilities inside our buildings. Please note though, dogs are not permitted inside our
restaurants or shops.

Can my dog come with me whilst I sit and have something to eat?
If it's not safe to leave your dog outside, i.e. if you are travelling alone, or it's too hot to leave
your dog in the car, your furry friend will be allowed inside whilst you use our facilities.
Please keep in mind though, he/she is not be permitted inside our restaurant areas.

What facilities do you have for dogs?
We are lucky to have some stunning outdoor spaces at our locations, some with short walking
routes perfect for letting your furry friends stretch their legs mid-journey, and all with space for
your dog to relive themselves and have a quick drink of water.
If you're travelling alone, you can bring your dog inside whilst you use the facilities, but please
keep in mind that dogs aren't permitted inside restaurants or shops.
Find more tips while travelling with Dogs here.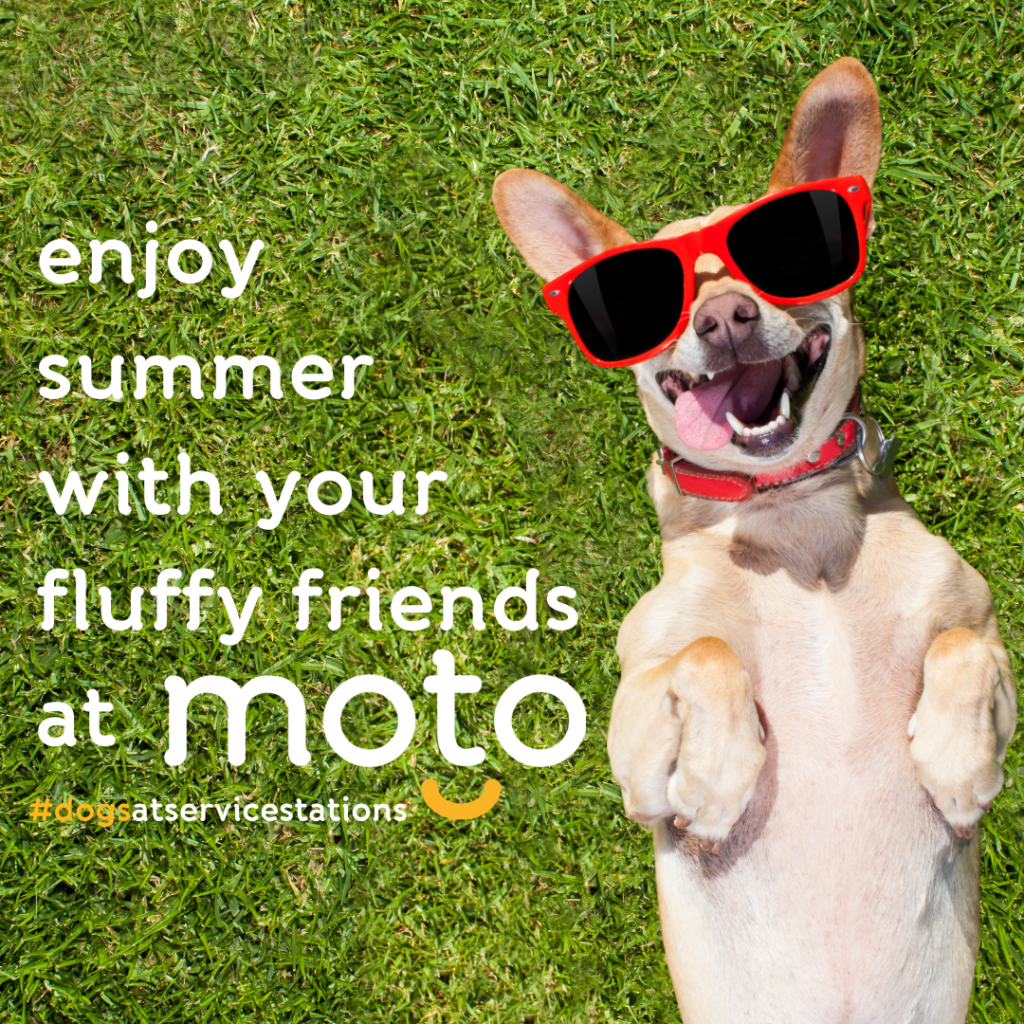 Code of Conduct
We allow all customers, not just those with assistance dogs, to bring their dogs into restricted areas of Moto sites.
Dog owners will be able to access main thoroughfares and toilets. Only assistance dogs are allowed access to our catering outlets and food halls.
Dogs must be well-behaved and be on a lead. Owners must be always in full control of their dogs and are fully responsible for their dog's behaviour.
If a dog is disruptive or aggressive in any way, Moto reserves the right to ask its owner and their dog to leave the premises.