We're proud to be leading the Electric Vehicle (EV) revolution on the UK motorway network, as we strive to encourage more sustainable driving by making it easier for EV drivers to recharge regardless of where they're going, or where they're coming from. EV accessibility and reliability is something Moto wants to excel in and we are committed to this with our nationwide rollout along with our partner, GRIDSERVE Electric Highway.
7 high-powered 'Electric Hubs', featuring 6-12 x 350kW chargers, capable of adding 100 miles of range in just 10 minutes, have been delivered to Moto sites across the UK. GRIDSERVE Electric Highway's first Motorway Electric Hub – a bank of 12 high power 350kW GRIDSERVE Electric Highway chargers alongside 12 x Tesla Superchargers was opened to the public in April at Moto Rugby and is the UK's largest high power motorway charging site. Expected to be completed this year, many more new Electric Hubs, each featuring 6-12 high power 350kW chargers per location will be installed helping Moto's vision of Transforming the UKs rest stop experience.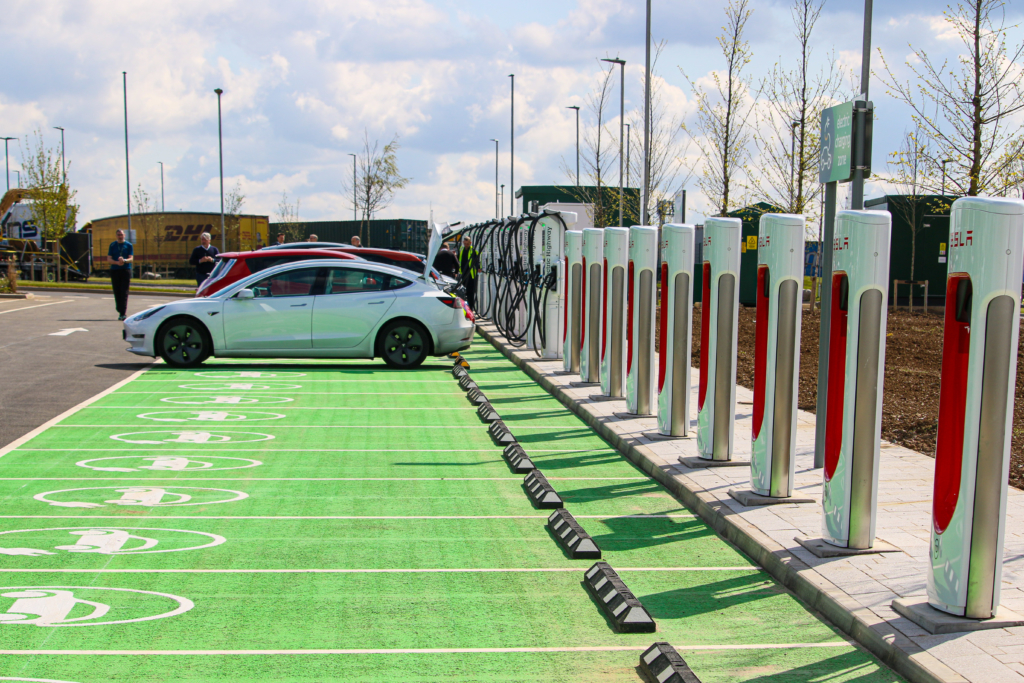 Besides Moto Rugby, our new HPCs (High Power Chargers) and Electrics hubs can be found at Moto Swansea, Moto Exeter, Moto Burton-in-Kendal, Moto Thurrock, Moto Heston West and Moto Severn View.
We are committed to helping drivers make the transition to EV by providing the fastest chargers which are simple to use with contactless payment. No subscription needed. No App required. Just plug in to charge your vehicle and tap your card. You can also enjoy a recharge whilst your vehicle does with our growing choice of food brands from KFC, Burger King to Costa, Chow and Pret alongside our investment into new facilities and improvements to toilets.
We are working hard on improving our EV provision – keep your eyes peeled throughout 2022 for more updates and news.
Find an EV charging point at Moto here.