SNAP is the smart payment system for HGV drivers and Fleet operators that enables parking payments to get added to their monthly invoice. Simplifying the process.
We are delighted to announce that we are increasing the number of sites that accept SNAP payments to give HGV customers even more options when it comes to paying for parking at Moto. From today, HGV drivers will be able to pay for parking via their SNAP account on site terminals.
Launching on 28th September
🚚Moto Thurrock
Existing SNAP locations at Moto
🚛Moto Birch Eastbound
🚛Moto Birch Westbound
🚛Moto Chieveley
🚛Moto Leeming Bar
🚛Moto Stafford North
New SNAP locations at Moto
🚚Moto Medway East
🚚Moto Medway West
🚚Moto Swansea
🚚Moto Trowell North
🚚Moto Trowell South
🚚Moto Washington North
🚚Moto Washington South
🚚Moto Woolley Edge North
🚚Moto Woolley Edge South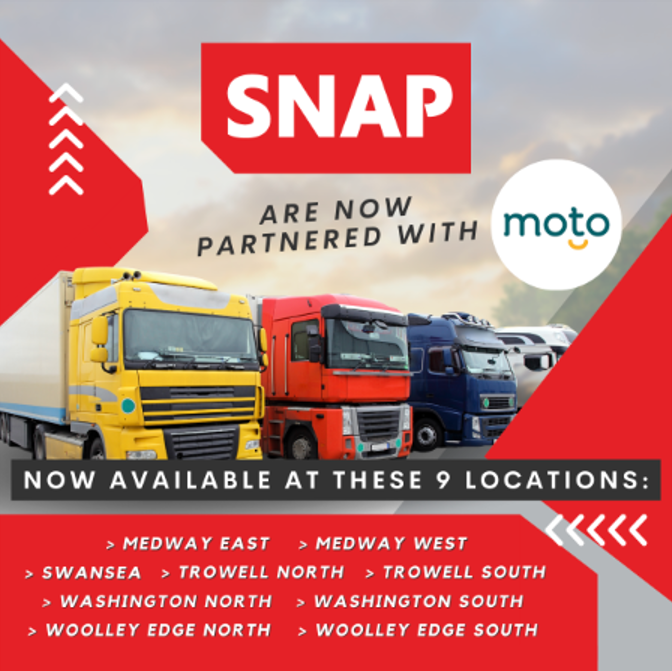 Myra McPartlin – Head of Commercial at SNAP said;
"We received great driver feedback about using SNAP Account in Moto locations, and we are thrilled to extend our partnership – offering drivers 700+ more truck parking spaces and digital payment options at eight more Moto sites.
"This latest release of Moto locations is further helping to connect fleet journeys from depot to destination, and we hope for many more years of successful partnership with the Moto motorway services group."
Shaun Stanley – Head of Commercial and Fuel at Moto said;
"Since we added SNAP parking in March to the Truckwash facilities we already offered, Moto has welcomed over 12,000 unique SNAP Account visitors to the five sites accepting the digital account parking solution. We are delighted to be able to extend that to a further nine Moto locations across the UK, ensuring over 700 HGV Parking spaces at Moto are now available within the SNAP portal.
"As well as the benefits of cashless parking payments, intruck app integration and reduced administration for Fleets, HGV drivers can now enjoy more of Moto's convenient locations, well-known brands and facilities. The 165,000+ HGV Drivers using SNAP Account are also still able to benefit from offers such as our HGV Driver meal voucher when registering overnight parking permit from a SNAP terminal (T&Cs apply) and we look forward to welcoming even more drivers from the community with this extension of our collaboration."
For parking at all other Moto locations, you will not be able to pay using SNAP Account – until stated otherwise. Failure to pay using an alternative payment method will result in a Penalty Charge Notice (PCN.)