SNAP is the smart payment system for HGV drivers and Fleet operators that enables parking payments to get added to their monthly invoice. Simplifying the process.
We are delighted to announce that we are working alongside SNAP to give HGV customers more options when it comes to paying for parking at Moto. From today, HGV drivers will be able to pay for parking via their SNAP account on site terminals.
Is SNAP coming to a site near you?
🚛Moto Birch Eastbound
🚛Moto Birch Westbound
🚛Moto Chieveley
🚛Moto Leeming Bar
🚛Moto Stafford North
You may have seen SNAP terminals and signage being installed over the last couple of weeks so we are happy to finally launch for our customers.
"Our customers have been asking about using SNAP Account for truck parking at Moto sites for a long time, and we are very excited to bring this to life. We are also thrilled to build on our existing partnership with the reputable, Moto brand from our truck-washing relationship."
Emma Westwood, Strategic & UK Commercial Manager – SNAP. 
"Here at Moto, you'll find a wealth of services, supplies, brands and offers to keep you going when you're going from A to B (and back again!) 
"We're thrilled to be partnering with SNAP as this gives us the opportunity to connect with 150k+ drivers and 6.5k+ Fleet operators. We can't wait to share all the brands and facilities you expect to enjoy at Moto, like our free WiFi, toilets, showers and much more, with our new customers. 
"We already offer SNAP washing at our four Truckwash locations, so we know drivers value the convenience and we are delighted to be able to initially offer an additional 342 HGV parking spaces across Moto to the SNAP network."
Nikki Rogers, Retail Director – Moto Hospitality.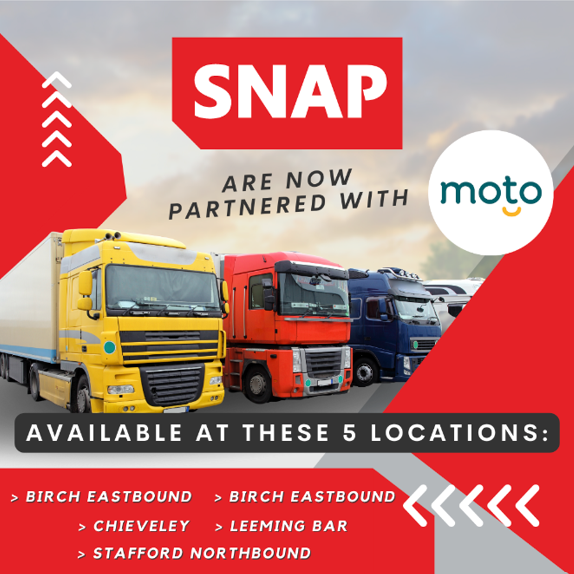 For parking at all other Moto locations, you will not be able to pay using SNAP Account – until stated otherwise. Failure to pay using an alternative payment method will result in a Penalty Charge Notice (PCN.)