We are launching a carversation campaign as part of the partnership with Moto Foundation, Mind and SAMH (Scottish Association for Mental Health). The campaign aims to reach a quarter of a million road users, encouraging them to connect and talk to one another on the open road and when taking a break at our service stations.
To launch the carversation campaign, 60 talking benches have been installed at Moto service stations across the UK, to provide a physical space for customers and Moto colleagues to start a 'carversation' with one another.

The campaign will utilise expertise from Mind and SAMH to provide road users with the tools to connect with others while on the open road and at Moto service stations. Connecting with others can help to improve mental health and wellbeing, creating a sense of belonging while improving a sense of feelings of self-worth and providing an opportunity for people to share experiences and to offer emotional support.
Moto, Mind and SAMH's carversation campaign will seek to demonstrate how customers and colleagues can make a difference to people's days with a meaningful moment of connection.
The campaign will also aim to harness the power of a journey, encouraging road users to use the time and space that journeys can provide in the best way – whether that is opening up to someone one-to-one in the car or picking up the phone to a loved one while taking a break.
Our mission is to 'brighten people's journeys through life' and the carversation campaign is the latest in a line of initiatives to bring this to life.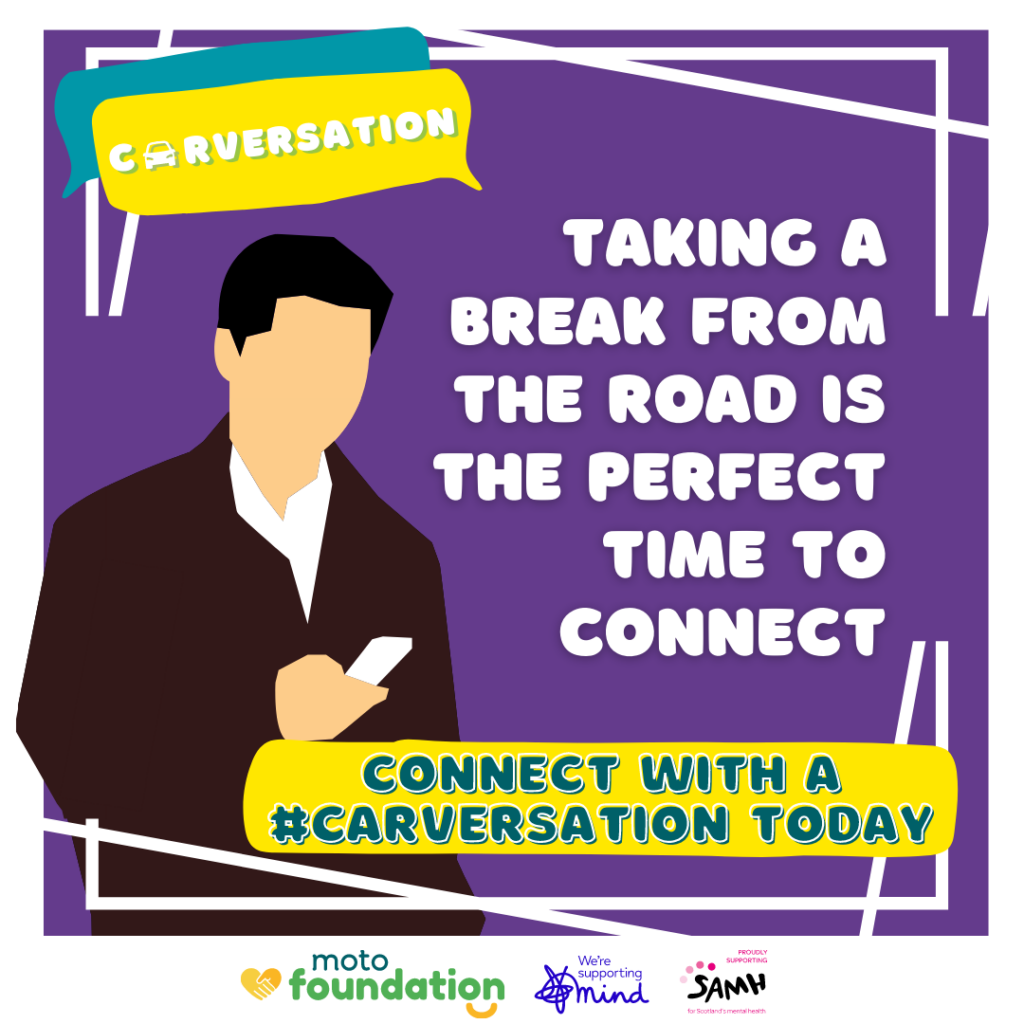 Moto Chief Executive, Ken McMeikan, said: "We're proud to have partnered with Mind and SAMH to launch our carversation campaign, which will provide our customers and colleagues with the vital knowledge and means to connect with others while travelling on the open road or taking a break with us.
"Meaningful moments of connection are crucial to promoting better mental health and wellbeing, as well as providing others with the emotional support they need, so we hope our campaign will help customers and colleagues to take the time connect with others and talk."
Mind CEO, Sarah Hughes, said: "We're grateful to Moto Hospitality for their support and we're looking forward to seeing the impact of the carversation campaign.
Through this campaign with Moto Hospitality, we'll be able to reach a significant amount of people across the UK, encouraging them to connect with others. We're excited about this as connecting with others can help improve our mental wellbeing and create a sense of belonging. This is important as the pandemic has had a devastating effect on the nation's mental health, especially for those of us with existing mental health problems, and the cost-of-living crisis is only making matters worse."
Billy Watson, Chief Executive at SAMH, said: "We would like to thank Moto Hospitality for their support and the opportunity to support the 'carversation' campaign. Chatting on the road, when safe to do so, or while taking a break on a long journey, can present a great opportunity to open up about our mental health and wellbeing. We hope the campaign will lead to many supportive conversations up and down the country."    
The partnership will enable Mind and SAMH to continue to provide support services, such as helplines and peer support communities, and campaign for the one in four of us that will experience a mental health problem every year. Some of the money raised will also go towards the Local Mind Grants Fund (LMGF). This fund supports local Minds to deliver mental health projects and services in their communities.
Through its fundraising, the Trust also aims to drive awareness and open up conversations about mental health among its colleagues and customers. 
If you or someone you know needs support:

📞Call Mind's Infoline on 0300 123 3393
💬Call SAMH's Infoline on 0344 800 500
🤝Call Samaritans 24/7 on 116 123