From 13th – 17th June, the team took on the Big Battlefield Bike Ride and cycled the entire British sector of the Western Front. Covering over 350 miles in 5 days, the team paid their respects at the battlefields of the Somme, visited Flanders and took in Compiegne, where the Armistice was signed.
Moto in the Community's (MITC) team of super cyclists are:
Alex Shackleton, Darren Spruce, David Agnew, James Gunn, Jason Broddle, Jason Vance, Leigh Burns, Matthew Haywood, Olivia Allen, Paul Butters, Phillip Wdowikowski, Sue Lee-Stokoe and Sumit Gupta.
There is still time to donate at: https://www.justgiving.com/campaign/Team-Moto-BBBR-2022
Here are 5 diary entries from the Ride and some BTS photos of their journey: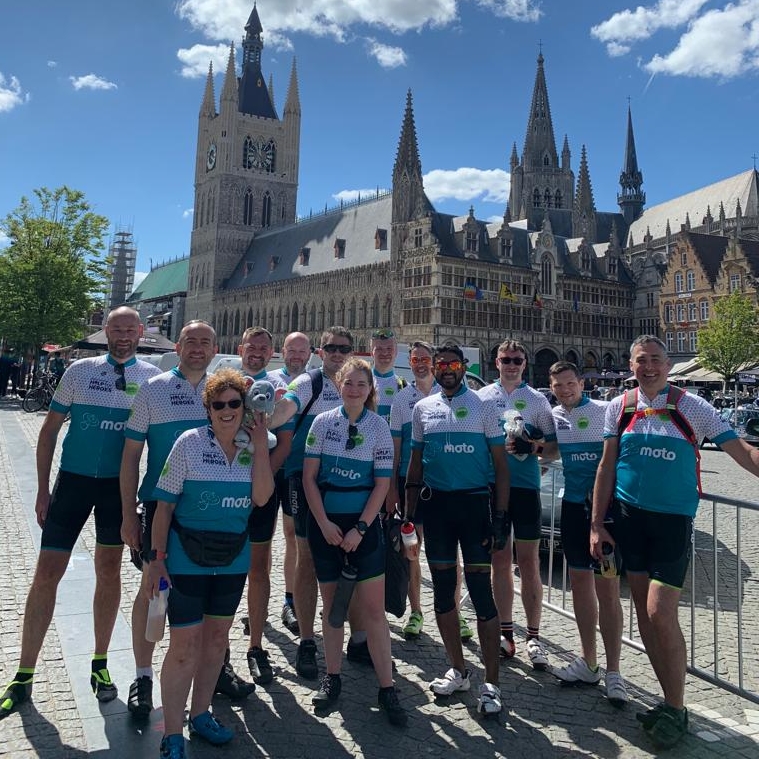 Big Battlefield Bike Ride 2022 Diary: Day 1 – Darren Spruce (Moto Head of Facilities and BBBR Team Lead)
Day 1 done, we've had a great day. The team are all getting to know each other and have eased into the ride – core miles today was quite low at 44 miles, it'll get longer (and tougher!) towards the end of the week.
We started the day in Nieuwpoort at 10.00am and headed to the Trench of Death where the Belgian army held that line for 4 years in horrendous conditions. We also visited Aristocrats Cemetery; the largest Commonwealth cemetery in the world with some 20,000 graves, many of which are unnamed. It was very humbling to stand there looking at the sight just trying to imagine what horrors those servicemen had to endure.
The weather has been amazing today. However, we do have some very pink arms and legs within the group! The team are getting on great and there's good banter too. Paul's ride was nearly cut short when he snapped a spoke, but the BikeTec guys soon got that repaired.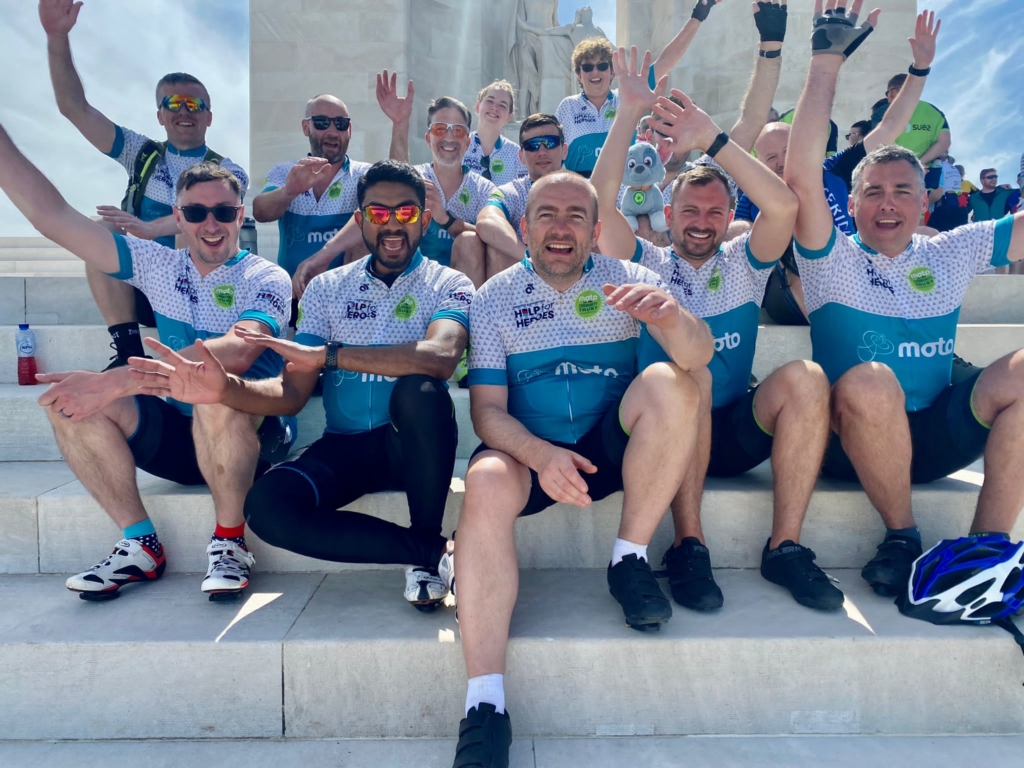 Big Battlefield Bike Ride 2022 Diary: Day 2 – Paul Butters
'Paul's bike broke again!!'
Amazing journey in the sunshine, travelling from Ypres, Belgium, down to Arras, France. Visited 6 memorial sites of interest on the route, with amazing insight into what the troops endured and how so many lost their lives in 1915.

The highlight of the day: after the exhausting challenge of our first real hill climb, to arrive at Vimy Ridge, Canadian Memorial. Here we attended a ceremony to commemorate those who lost their lives. We also heard a first-hand account, in a very emotional speech, of the amazing work that Help for Heroes does for veterans. They not only provide medical support but give veterans the focus they need to help themselves by supporting others through Help for Heroes.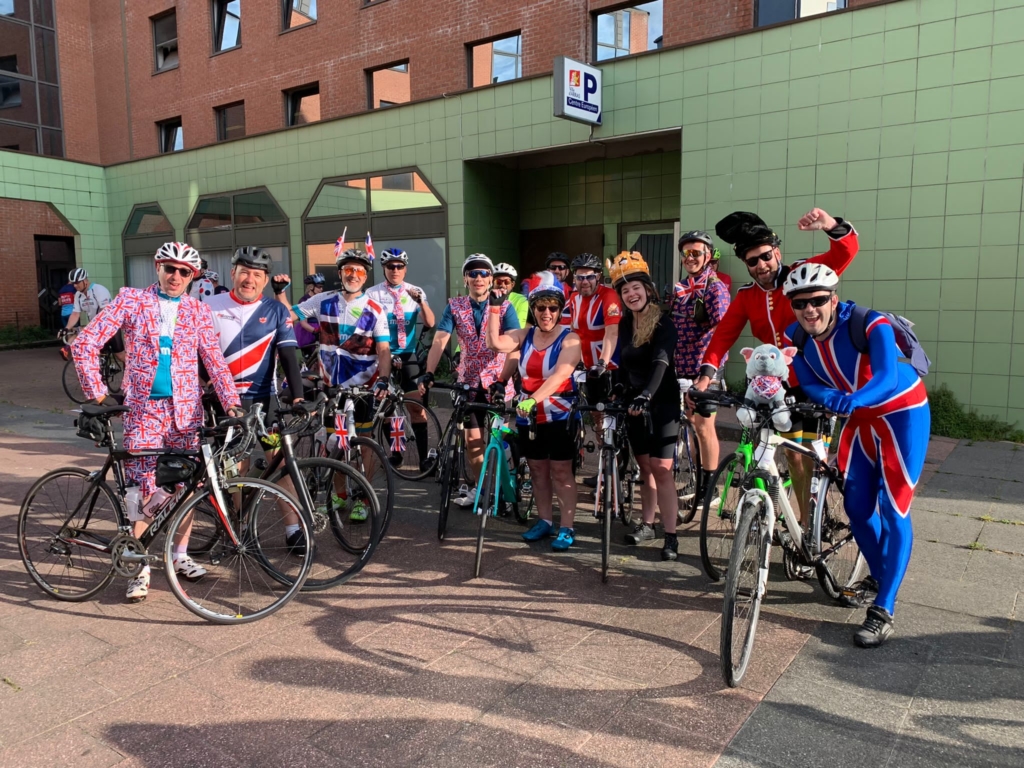 Big Battlefield Bike Ride 2022 Diary: Day 3 – Matthew Haywood

Another amazing day cycling 84km in 28-degree heat from Arras to Amiens. The Moto team donned suitable fancy dress in honour of the Jubilee with Leigh wearing a very fetching Union Jack morph suit (boy does he smell now!).
We visited a total of 6 memorial sites again today. A service was held at the Ulster Memorial and special tribute was paid to one of the support workers who has given years of service providing technical cycling support to the BBBR. His team are supporting us on this ride, and they led a very moving tribute.
As the week progresses it is fantastic to see so many of the Moto team riding with others, listening to the stories and hearing first-hand how Moto's fundraising makes a difference to so many lives on a daily basis. Last thing from me is a HUGE well done to the team for making it up the last horror hill (except Jason Vance who thought he'd miss it completely!)
Looking forward to tomorrow's 110km…..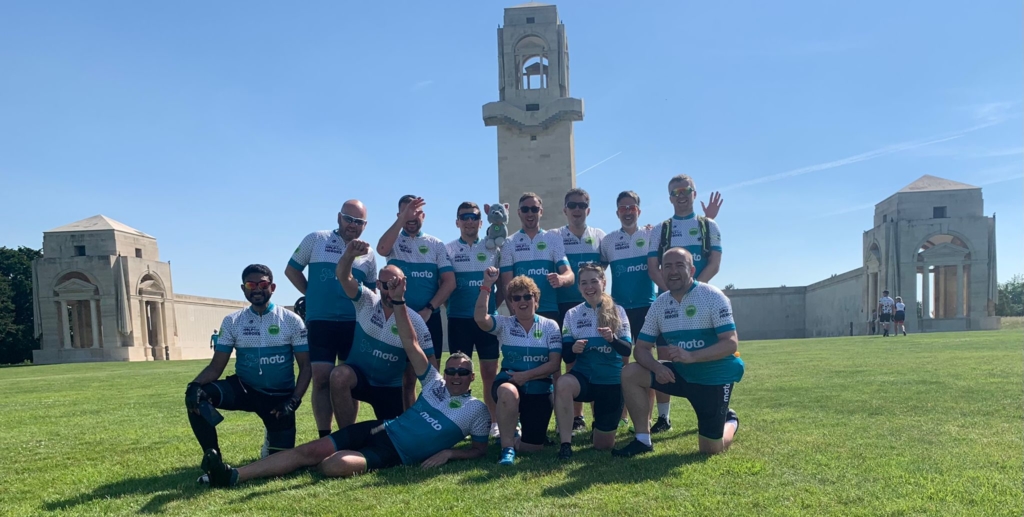 Big Battlefield Bike Ride 2022 Diary: Day 4 – Leigh Burns
Day Four Completed: Ole ole ole ole, Feeling Hot Hot Hot!

The penultimate day has now ended. In the backs of our minds, we knew this would be the longest route, the steeper hills and frankly unbearable heat of 28c. I can safely say this has been the toughest cycle ride I've ever done. And I give my full respect and salutes to the wonderful team that I have had the pleasure of being with.
A special well done to you all. Especially when we went into Peloton mode for the last 15 miles.
We started off early at 7:30-8-ish under much cooler conditions. We visited the area where the first ever tank battle took place and then on to Heath Cemetery where we witnessed a grave with the Victoria Cross on the tombstone.
But of course the ceremony at Villers-Bretonneux for the Australian Ceremony was the highlight, with its stunning views especially from the top of the tower. It was another moving ceremony that made us reflect on our suffering in the heat. This was just one day. How can we justify ourselves today, thinking about being out there for four years?
With the final ride upon us, emotions are high and not just the temperatures. This may be the beginning of the end but a lifetime of memories live with us forever. And to me, it's those memories that keep me going. I am proud to be part of this year's ride.
GOOD LUCK TOMORROW GUYS.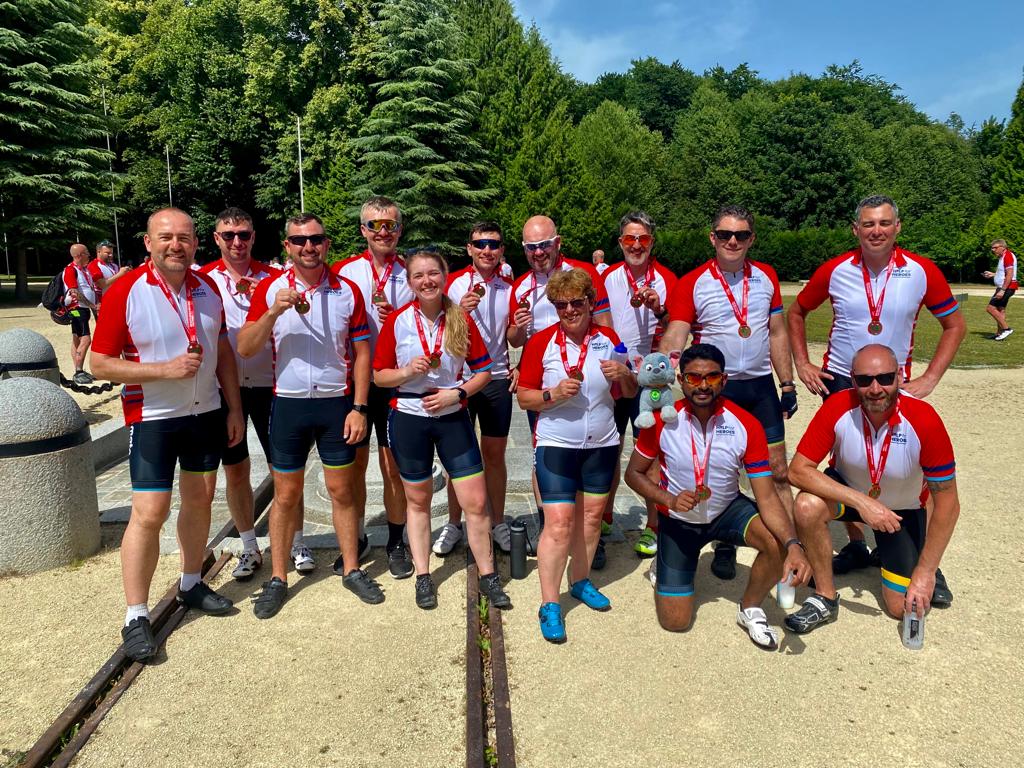 Big Battlefield Bike Ride 2022 Diary: Day 5 – Liv Allen
Day 5: We've only gone and bloody done it!
Today was a scorcher. We left Saint-Quentin nice and early to make the most of the cooler temperatures but the heat caught up with us. There weren't many rolling guide stops on this route but that was fine, as we were powering towards the finish line.
Liv had spectacular crash but, thankfully, didn't have to join the 'party bus'.
We finished off the ride by forming a peloton and cycling into the Glade of the Armistice, where the Armistice was signed to end the Great War on November 11th 1918.
We had a moving ceremony and received our well-deserved medals and a bottle of beer (two for Liv, as Sue doesn't like it!).
In the evening, all the Help for Heroes 'graduates' met for dinner where drinks were flowing, until the bar ran dry and we were able to celebrate our success in style, so much so that some of us didn't get to bed until 1.30am! The whole week has been an incredible experience. The friendship and kindness we've received from our teammates has been something that we'll never forget.