Price Watch – we're lowering the cost of our family essentials at Moto.
We're watching the price of dozens of our everyday essentials, giving you value for money on the motorway across a range of your favourite health and family brands at Moto.
From headaches, heartburn and allergy relief to nappies, baby milk and teething gel, we've got everything you need to make your family road trips, staycations and long journeys easier and more comfortable – for you and your wallet.
Keep your eyes peeled across Moto sites for the "price watch" badge popping up across a number of retail lines.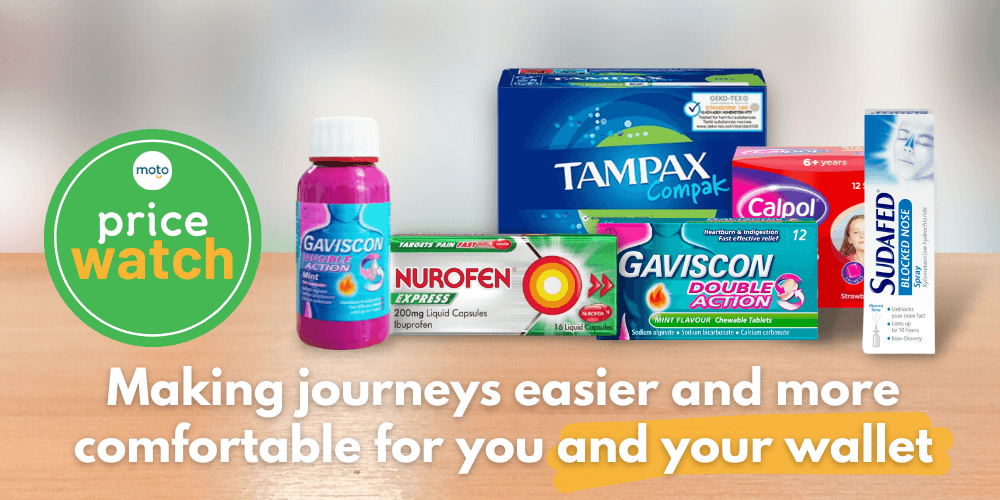 To be the first to hear about even more ways your family can get value for money and get more from Moto, join MyMoto now.
For a full list of products included, see below.
—
Price Watch Terms & Conditions
We are watching the prices of one leading High Street national retailer only (Boots) so prices may be different across the rest of the High Street.
We are comparing standard (non-promotional) prices on like-for-like branded products from that retailer.
Price watch prices are subject to change in line with fluctuations in that retailer's prices. They are being monitored on a weekly basis by an independent third party – where prices at the retailer change (on a Monday), there will be a delay in the change to our prices (coming into effect on the following Thursday).
Where the exact same product is not on sale at that retailer, our "price watch" price is calculated based on alternative product sizing of the same branded product.
We operate a "round pound" pricing policy with our price watch prices rounding the price of the product on sale at the retailer up to the next 5p denomination.
"Price watch" lines are subject to change without notice.
Products included in the Price Watch are:
Anadin Extra – 16 Caplets, Anadin Original Caplets – 16, Anadin Paracetamol 500mg Tablets – 16, Beechams All in One Cold and Flu Liquid 160ml, Beechams Flu Plus Cold and Flu Caplets 16s, Beechams Max Strength All in One Cold and Flu Capsules 16s, Benadryl Allergy Relief – 12 Capsules, Benylin Chesty Coughs – Non Drowsy 150 ml, Benylin Mucus Cough Max Syrup – Honey & Lemon – 150ml, Calpol Infant Sugar Free Oral Suspension Strawberry Flavour 2+ Months 100ml, Calpol 120mg/5ml Sugar Free Infant Oral Suspension Strawberry Flavour 2+ Months 12 x 5ml Sachets, Gaviscon Double Action Heartburn & Indigestion Liquid Mint Flavour 150ml, Gaviscon Double Action Heartburn & Indigestion Mint Flavour Tablets x12, Imodium Instants – 6 Tablets, Imodium Original 2mg Capsules – 6 Capsules, Lemsip Max Cold & Flu Capsules (16 Capsules), Lemsip Max Day & Night Cold & Flu Relief Capsules – 16 Capsules, Nurofen Express 200mg Liquid Capsules Ibuprofen x16, Nurofen for Children 3 months to 9 years Strawberry 100mg/5ml Oral Suspension – 100ml, Nurofen 200mg Tablets Pain Relief Ibuprofen x16, Panadol Paracetamol Tablets Pain Relief 500mg Advance 16s, Panadol Extra Advance 500 mg/65 mg Tablets, Piriteze Antihistamine Allergy Relief Tablets, Cetirizine – Pack of 7, Strepsils Honey & Lemon Lozenges for sore throat ​x16, Strepsils Extra Blackcurrant Lozenges for sore throat x24, Sudafed Congestion & Headache Relief Max Strength – 16 Capsules, Sudafed Blocked Nose Spray- 15ml, Sudocrem Antiseptic Healing Nappy Cream 125g, Bonjela Soothing Teething Gel 15ml, Wet Ones 'Be Gentle' Biodegradable Antibacterial Wipes, 12 Pack, Pampers Fresh Clean Baby Wipes single pack = 52 wipes, Bepanthen Nappy Care Ointment 30g, My Little Sudocrem Skin Care Cream 22g, Ashton & Parsons Teething Gel – 10ml, Aptamil 2 Follow On Baby Milk Formula Liquid 6-12 Months 200ml, Aptamil 2 Follow On Baby Milk Formula Powder 6-12 Months 800g, Aptamil 3 Toddler Milk Formula Powder 1-2 Years 800g, Cow & Gate 2 Follow On Baby Milk Formula Liquid 6-12 Months 200ml, SMA® PRO Follow-on Milk 6 Month+ Ready to Drink 200ml, SMA® PRO Growing Up Milk 1-3 Years 200ml, SMA Pro Growing Up Milk 1-3Yr 800g, Pampers New Baby Size 1 x 22 Nappies 2kg-5kg Carry Pack, Pampers New Baby Size 2 x 31 Nappies 4kg-8kg Carry Pack, Pampers New Baby Size 3 x 29 Nappies 6kg-10kg Carry Pack, Tampax Compak Regular Tampons Applicator 18X, Bodyform Ultra Towels Goodnight Wings x10, Bodyform Ultra Normal with Wings 14 Pack, Tampax Pearl Compak Super Tampons Applicator 18X